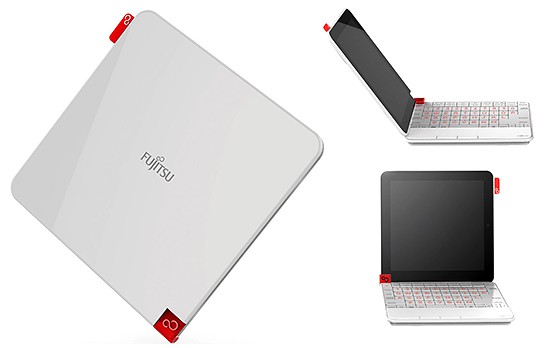 (credit: Ma Yiwei & Tao Ying via Design Boom)
though this particular concept did not win the big prize in the recent FUJITSU design award 2011, organized by DesignBoom in collaboration with Fujitsu and Design Association Japan, it has, however, received the Fujitsu judge's special award. conceived by designers Ma Yiwei and Tao Ying, the 'Anderson' as it is called, is one of the seven entries to receive the judge's special award.
[ad#Google Adsense-text-468×60]
'Anderson' re-imagines the future of computing with its unconventional square form-factor that measures just 165mm x 165mm x 17mm. indeed unconventional as all laptop of today are of rectangular form-factor due to nature of the keyboard layout that we have grown accustomed to. portability and ease of use during on-the-move are the main driving factors for this bold design. 'Anderson' has a two operation modes, the more conventional portrait mode and the book-like landscape mode. i know it sounded odd as landscape is usually deemed 'standard' for any laptop but read on to find out why.
in portrait mode, the display is positioned 'above' the keyboard like any laptop of today while the more unconventional landscape mode has the keyboard repositioned to the right side of the display, thus turning it into a book-like setup. this enables the user to hold the laptop like a book, which is perfect for on-the-go usage such as chilling out with a cup of pipping hot coffee while reading an ebook or surfing the net.
though unconventional, i still love the design. the overall use of pearl white with a little red tab hanging off the edge of the display are a couple of nice touches too, giving the laptop a fashionable feel. very chic, indeed.
via 'anderson' by ma yiwei + tao yin – FUJITSU judge's special award