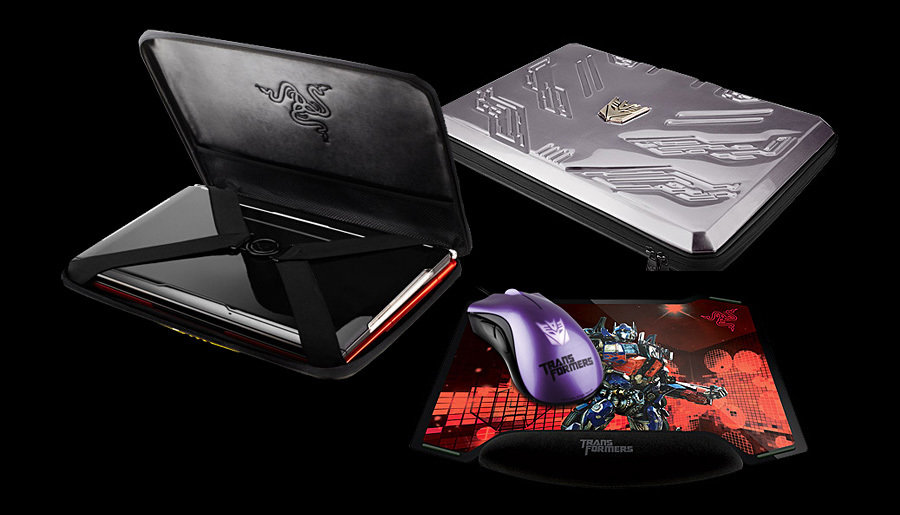 (image: Razer) Razer DeathAdder Transformers 3 Gaming Mouse (US$59.99) / Razer Vespula Transformers 3 Mousepad (US$34.99) / Razer Transformers 3 Laptop Case (US$49.99) | www.razerzone.com
the release of the Transformers: Dark of the Moon DVD/BluRay may have reignited your passion for the metal aliens, if not, Razer and Hasbro has a little something to rekindle your love for the alien robots. they have announced a series of gaming peripherals and accessories to quench your thirst for those war-mongering metal beasts. among the products announced are Razer DeathAdder Transformers: Dark of the Moon Collector's Edition Gaming Mouse, Razer Vespula Transformers: Dark of the Moon Collector's Edition Gaming Mouse Mat and Razer Laptop Case Transformers: Dark of the Moon Collector's Edition.
[ad#Google Adsense-text-468×60]
first off, the right-handed Transformer 3 edition mouse is based on the new DeathAdder gaming mice and is available in four designs based on the icons of the Transformers' universe: Optimus Prime, Bumblebee, Megatron, and Shockwave. along with the unique design are specifications of the original DeathAdder including a 3,500 dpi 3.5G infrared sensor, 1,000Hz Ultrapolling with 1ms response time, five independently programmable Hyperesponse buttons, and on-the-fly sensitivity adjustments. the mouse mat is also based on Razer's new Vespula mouse mat that features a dual-side gaming surfaces – one side for speed and the other, for control. the design of Optimus Prime is embossed on the speed enhancing side, while the control-precise side bears the design of Megatron.
last but not least, is the laptop sleeve that's crafted especially for this collaboration. constructed from flexible hard weave and features a zip seal, and padded inner lining, this laptop sleeve promise to protect your gaming laptop against knocks, bumps, and scratches while you are on the move. the laptop sleeve is available in four colors, of which, two are embossed with a chrome metallic fraction logo of the Autobots, and two of the Decepticons'.
the Razer Transformers 3 Gaming Peripherals are available now via Razer's web store.
SOURCE: Razer