you know why we chose console over PC? aesthetic and form factor with the best possible graphics, and most importantly, we don't need to mess with tons of cables. however, console is anything but a purist thing. true gamers will likely to stick to PC. while we can look past the constant need for upgrading and maintenance for PC, we can never past it off in the living room if we want its power to replace consoles. fortunately, thanks to the growing popularity of Steam gaming platform, we are seeing more aesthetically pleasing gaming 'boxes' coming to the living, but what if you don't want to see it at all? well, that's where the G-Pack Gaming PC comes in.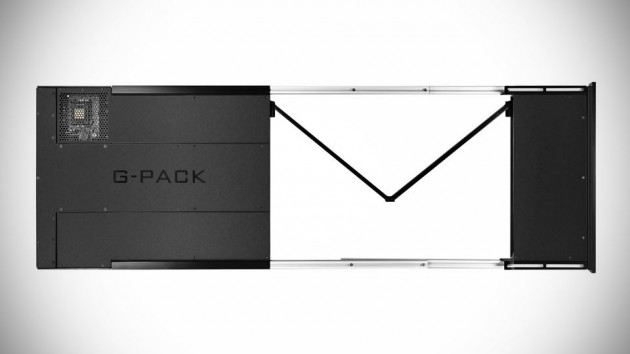 the mere word 'pack' already suggests that it is nothing towering. in fact, G-Pack has an ultra-low profile aluminum chassis (which looks pretty rad, btw) that is designed to be mounted to the back of your HDTV of up to 100 kilograms (220 lbs). it is the first VESA mountable full-fledge gaming rig that boast a custom hardened steel brackets and has an extendable chassis to allow access to the ports and buttons from the side of the television set between 37-inch and 70-inch. the bracket also allows it to be easily slide in and out for periodic maintenance or upgrades. so far, it sounds pretty promising, but we are digging its aluminum chassis more than anything else. in fact, it looks so pretty that we think we could even leave in on the coffee table. oh wait. we still have cables to deal. think we will just stick to mounting to the back of the TV then.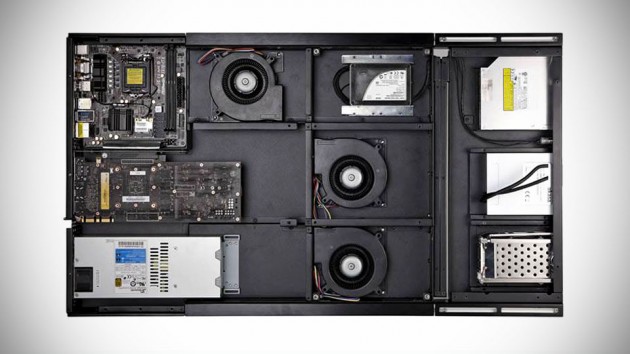 anyway, the whole package weighs in less than 10 kilos and is touted as 100 percent hackable by anyone who wishes to tinker with the hardware. another important feature is the cooling system, which the outfit described as "as quiet as a mouse", while still being able to dissipate up to 500W of heat. very important indeed cos' you won't want to be frying a box behind your TV and get irk by noises from the fans. PiixL, the outfit responsible for this awesome rig, is offering three hardware configurations with features like up to up to Intel Core i7-4790, up to 16GB DDR3 RAM, up to NVIDIA GeForce GTX 980 GPU, and up to 500GB SSD and 3TB HDD.
common denominators across the three packages include Intel H97 chipset, slot load Blu-ray drive/writer, supports up to 500W, universal card reader, USB 3.0 and USB 2.0 ports, plus the usual I/Os, and it is of course, Steam-optimized and load straight up into Steam Big Picture, providing you with user-friendly console interface. the London-based company is currently running a crowdfunding campaign on Kickstarter, where you can pre-order one starting at $1,695. there is also empty chassis for those who the 'a la carte' enthusiasts. hit the jump for a product pitch video.