Don't fret over your aging car's lack of premium driver-assist features found in today's luxury car, because Garmin has a brilliant solution, called Garmin nüviCam LMTHD Portable Navigation Device, that will make even the most beat up ride feel like a sophisticated car with those awesome features. Not only will it add GPS navigation to your car, but also bless your car with a dashcam and premium driver-assist features including Forward Collision Warning that will alert you if you are too close to the car ahead and Lane Departure Warning, where audio and visual alerts will be presented in the event that you drift off the road. On top of that, the built-in high-definition dashcam will continuously record onto the included microSD card and automatically save files, along with GPS location and time, on impact. It can even take still images in or outside of vehicle, if so desire. The saved files can then be reviewed on the device's 6-inch pinch-to-zoom glass display.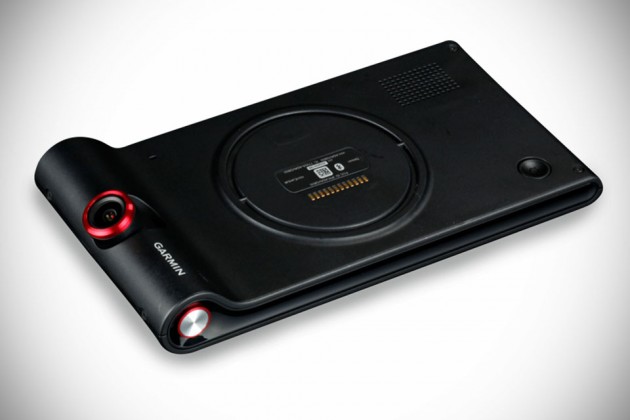 Other driving-assist features include speed and school zone warnings, photoReal Junction View, Bird's Eye Junction View, plus FourSquare data giving you access to millions of new and popular points of interest (POI). And it also plays well with Garmin BC 30 Wireless Backup Camera to display backup view when reversing. On the navigation aspect, it boasts voice-activate navigation for true handsfree navigation, Active Lane Guidance to prepare you for an exit or interchange, Garmin Real Vision that helps to decipher hard-to-see house numbers with directional arrow, and Garmin Real Directions that uses recognizable landmarks, buildings and traffic lights to guide you in your search for the set location. Furthermore, there is also a feature known as Up Ahead, where it will shows you nearby services, such as place to eat, refuel and more.
Additionally, it is Bluetooth-enabled, allowing you to make handsfree calls through the paired smartphone and also, with the use of a dedicated app, it allows real-time data services, such as live weather to be displayed on the screen. Finally, there's the HD Digital Traffic that will let you in on the traffic conditions too. Basically, nüviCam has everything a driver dreamed of in a portable package which can mounted and dismounted from the vehicle swiftly – thanks the included powered magnetic mount, which also charges the device as you drive. The Garmin nüviCam LMTHD Portable Navigation Device is slated to hit the shelves, starting in May for $399.99, which will come preloaded with detailed maps of North America and free lifetime map updates.