any self-respecting audiophiles would have think portable music players like the iPod as a toy, but the truth is, when it comes audiophile-grade portable music players, the options are far and few between, and hence the compromise. the first thing to come to mind is probably the bank breaking Astell&Kern MQS, which is needless to say, out of reach for most people. this is where the Geek Wave aims to break new ground. Geek Wave is a high-performance music player that's more affordable than Apple's offerings. with a couple of much lauded DAC under their belt, Light Harmonic sure knows a thing or two about how to turn out ear-pleasing audio and therefore, it seems like the next logical step for them to treat audiophiles with a rightful music player.
aesthetically, it won't stack up to Astell&Kern's or even Apple's. in fact, we are incline to think that Geek Wave looks a little like the first few generations of iPod touch, but only thicker – very much thicker to be more specific. it still fits in your hand, though and that thickness is for good reasons: it is the room where the audiophile magic happens. it is touted as the only 32-bit/384kHz PCM capable, native DSD player in the world, which means you can feed it with any resolution of audio files, from measly MP3 all the way to DSD128 files – the highest resolution available today. it offers hassle-free drag and drop music management with intuitive user interface, and it also let your smartphone or tablet takes control through the use of dedicated app for iOS and Android devices.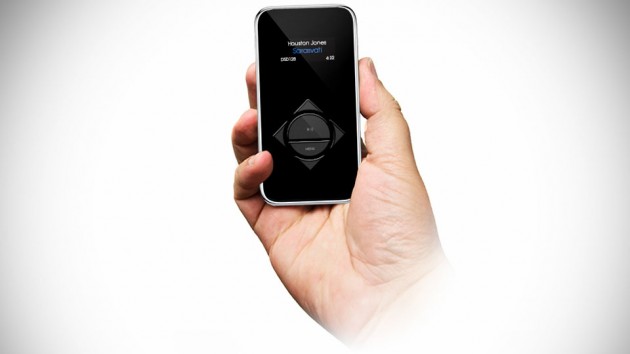 to cope with the demanding audio reproduction duties, Geek Wave employs the help of ten processor cores – a Microchip Technology's dual core MIP32 MPU and an eight-core 500MIPS CPU from XMOS, and it has a user-replaceable lithium-ion so you can easily swap it out for new one when its estimated two-year lifespan is up. to top that up, Geek Wave also includes proven audiophile-grade technology found in Da Vinci DAC, including a three-layer buffer DAC and an audio enhancing solution known as Duet Engine.
four models are offered through the product's Indiegogo campaign with two capacities to choose from. the device's storage can be further expanded up to a whopping 2TB through the use of SDXC card. the entry level Geek Wave 64 goes for $299, while the 128GB models may run up to $899, depending on which specific model you fancy. what we love about the Geek Wave (despite its less-than-appealing visual factor) is that it allows further upgrading, including fine tuning your device to match your In-ear Monitors and Femto Clock upgrades for even more mind-boggling audio performance. keeping going for a video to learn more about Geek Wave.
p.s. the campaign is well over 700% funded at time of this writing, which means you will get your stuff as per what you have backed. though delivery could take quite a while (in March 2015).