You want to get to somewhere on your motorcycle but then there is lake standing in the way and you have to route around it like everybody else does. That's what a normal person on a normal bike does. However, a normal person on a Gibbs Sports Amphibians' Biski doesn't have to cos' this 2.35 meter two-wheeler is also a jet ski too. Yup. A jet ski. All you need to do is ride it straight into the water, flick of a switch and in less than five seconds (plus less than three seconds to get to planing), you will be on the way as a jet ski – travelling up to 37 miles an hour across the water.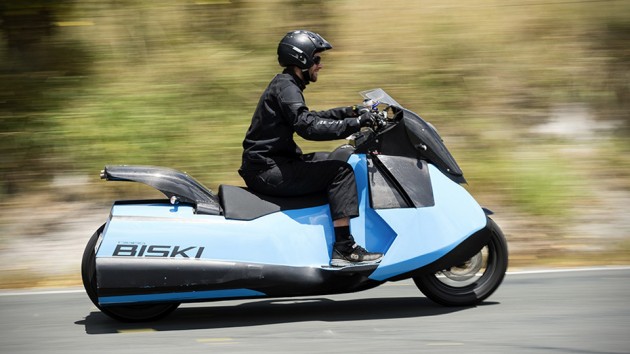 On land, it makes a decent 80 mph, which should be enough it to keep up with the rest of the road users in most places, but you won't want to topple this baby cos' it weighs a hefty 503 lbs (228 kg). Then again you can't really expect it to be anywhere near light as it is, after all, two machines in one. On the plus side, unlike most amphibious vehicles, Biski looks like any motorcycle on the road, albeit on the plump side like a scooter, and looks the part of a jet ski when it hits the water. So, there's absolutely nothing awkward about it like its four-wheel counterparts, which is brilliant. Cos' if there's one that thing that bothers us about amphibious vehicles is the too boat-like form that sticks out like a sore thumb against regular road-going vehicles.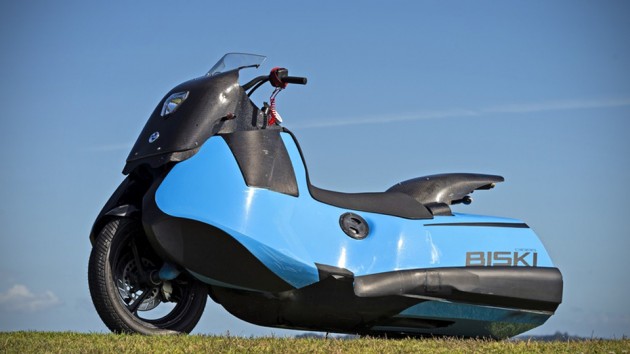 Powering the ride is a two-cylinder petrol unit that makes a scooter-worthy 55 horses (but pretty awesome on water, we must say), while Gibbs custom dual-jet propels it in jet ski mode. As a bike, it is of course, rear wheel driven, sports regular coil over suspension and is equipped with hydraulic disc brakes, but that's where the similarity to a bike ends. Packed into its compact platform is Gibbs' proprietary HSA technology that allows for the suspension retraction for duty as a watercraft and there are of course lights for both road and marine uses.
Sticker has not been announced as yet, though the vehicle was officially unveiled back in October. So, if you are interested, you will have to get in touch with the folks over at Gibbs Sports Amphibians. Keep going for a video to catch Biski in action.