It is time of the year again. A time of gifting, which is also the time of pulling our hairs over what to buy for our love ones. If you are a person as particular as us, you will not settle for second best and thankfully, we have the Internet that opens us to the glitz and glittery world of gifts. Uncommongoods is one place on the Internet that is by far the most comprehensive in the terms of gift diversity. No, really. You have to browse through their website and you will know exactly what we mean. It's like walking through Sears, Lowes, Macy's home department and more – all at once without breaking a sweat and did we mention, you can choose not to break your wallet too? Not that they don't pricey stuff; they do, but like I said, it is ridiculously diverse and offers products everyone can afford – even if you have just one dollar in your pocket.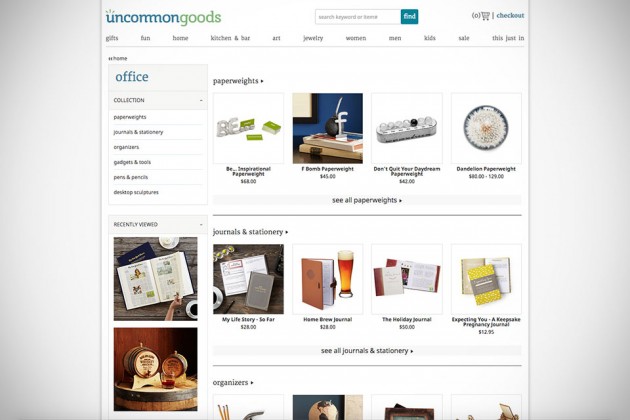 Whether you are looking for personalized gifts, gifts for your coworkers, your boyfriend, your dad or just about anyone, you can find it there. My personal favorites would be Personalized Whiskey Barrel, New York Times Custom Birthday Book and Stone Drink Dispenser. Product diversity is one thing, but being socially and environmentally responsible, is another. In fact, social and environment are topics many e-commerce entities rather not touch. But not with Uncommongoods. It works with its suppliers, big and small, to ensure products are made in a socially and environmentally responsible manner and hence, you will not find products that contains leather, feathers or fur.
And when printing on real paper is required, the company ensures it uses either recycled paper or paper from FSC certified sources. More impressively, it is one of those rare online-centric businesses that are always ready to pay it forward and it does so through a more than decade old program called Better to Give, which lets you select a non-profit organization to receive a dollar donation from Uncommongoods when you checkout. Since the program's inception, over a million dollars have been donated and benefited organisations like RAINN, American Forests, Women for Women International and Reach Out and Read.