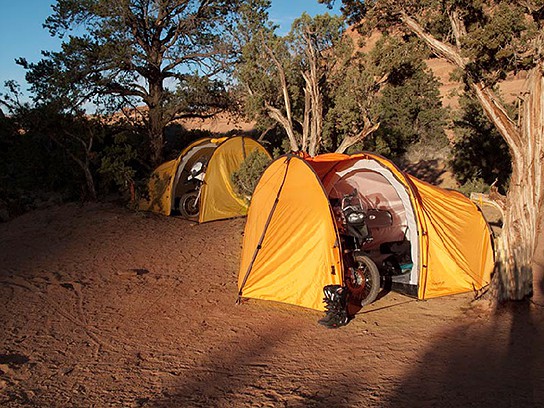 (credit: Nomad Tent Company) The Ténéré Expedition Tent | US$399.00 | www.nomadtent.com
if you are those who prefer road trip on bike, then The Ténéré Expedition Tent is the tent for you. first off, it provides a shelter for a good night rest and second, it is also a mobile garage for your beloved two wheelers. so what's good with it? for starter, you can be closer to the nature, plus you can give those shady motor inns a miss. The Ténéré Expedition Tent is a two person tent that is roomy enough to accommodate a queen size air bed. not that you will be lugging one of those air bed on your bike, but you get the idea. the setup and taking down is innovative as far as tents are concern. you start with the construction of the outer tent, ride you bike in and from there on, you can comfortably set out the inner tent without worrying about the elements.
the Ténéré Expedition Tent's price tag of $399 is not exactly cheap but think about the money you will save from not needing to stay in motels.