GoPro is phenomena. It basically sets the benchmark for action cameras. Though compact, its matchbox-size form factor is not everyone's cuppa and is clearly aerodynamically non-beneficial and that's not to mention it won't fit everywhere, but that's set to change with the cube-style GoPro HERO4 Session. As you can see, the HERO4 Session is unlike any of its predecessor. Not only did it takes on a radically different form, it is also touted as the smallest and lightest GoPro yet. Unlike previous GoPro models that requires a separate housing to get under water, the HERO4 Session comes waterproof to 33 feet (10 meters), out-of-the-box and a simple one-button control enables capturing of 8MP stills or 1080p60 video quickly without fuss.
However, the smallness does mean there's some trade off here and there and the most obvious being the lack of a proper display. Well, not quite. It actually has a tiny strip displaying basic info, but that's that. On the camera, there is really nothing much you can do other than start/stop recording, capture stills, save photo or video onto microSD card, et cetera, through the lone button. Further settings, if desired, will have to be accomplished using the dedicate mobile app, or via the optional remote, which is connected to the camera via WiFi or Bluetooth connectivity.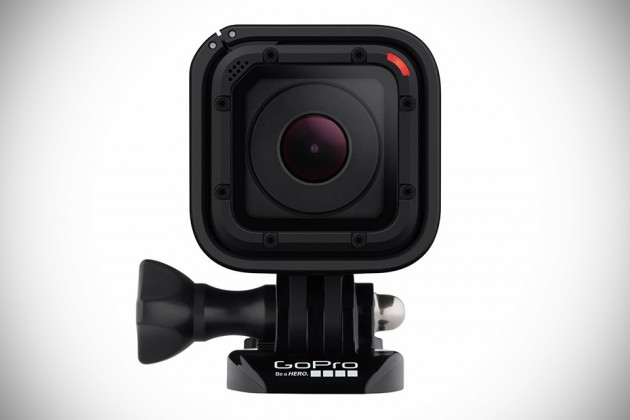 Looking past the lack of 4K or even 2K capability, the HERO4 Session is actually quite capable despite being this small. It boasts a dual microphone setup that automatically switches recording between the mics to minimize wind noise and because it does not need an external housing to get underwater, audio recorded during water-based activities will not be muffled. It also inherits many of HERO4 Black and Silver's features, including SuperView, Protune and Auto Low Light recording modes. Last but not least, it comes standard with a standard and low-profile frame mounts, plus a new Ball Joint Buckle that affords adjustability of the shoot through tilting and rotating.
The GoPro HERO4 Session action camera will hit the shelves on July 12, 2015, priced at $399.99 a pop. Keep going for a product promo video.