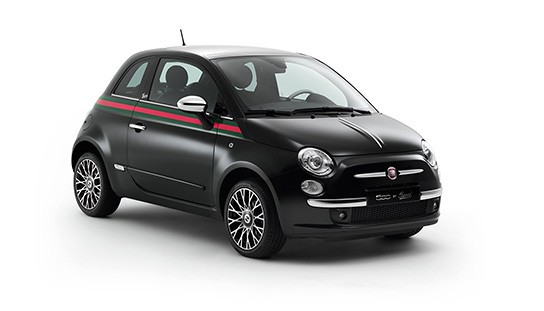 (image credit: Fiat) 500 by Gucci | from €17,000.00 | 500bygucci.com
no, 500 hundred is not a sequel to the movie 300 but it's a Fiat 500 car pimped out by legendary designer brand Gucci. Gucci creative director Frida Giannini collaborates with Fiat's design office to customize this iconic Fiat vehicle which comes in glossy black or white. the car is accented with Gucci distinctive green and red strip, including the exterior, the seats, gearshift, carpet and seat-belts. in case, your don't know it's a Gucci-pimped out ride, there is the iconic Gucci interlocking 'GG' slapped on the hubcaps and car seats' headrests, and topped off with cursive Gucci signature on the tailgate as well as the door pillars for good measure.
[ad#Google Adsense-text-468×60]
Frida Giannini elaborates:
"When the Fiat 500 first hit the road in the fifties it created a style revolution… Gucci's history has always been about traveling in style so when this collaboration came up, it struck me as the perfect opportunity to create a new modern travel statement."
this version of Fiat 500 is equipped with the 100 HP 1.4 liter engine and comes with brake calipers painted in Gucci green. the car sits on retro-ish spoked design wheels wrapped in 195/45 R16 rubbers. in line with the special edition Fiat, there's also an exclusive 500 by Gucci collection of travel accessories, leather goods, track suits, driving accessories and sunglasses to satisfy your need for Gucci-Fiat combo automotive lifestyle. these merchandises will be available in selected Gucci stores and online from April 2011.
the collaboration between Stile Fiat and Gucci celebrates the 150 years of Italian unification and in part, the 90th anniversary of the establishment of the Gucci brand. the 500 by Gucci will initially be available from April 1 to June 30, 2011 exclusively by pre-order via 500byGucci website, with a list price starting from €17,000 (about US$23,565).
500 by Gucci / Fiat via Autoblog