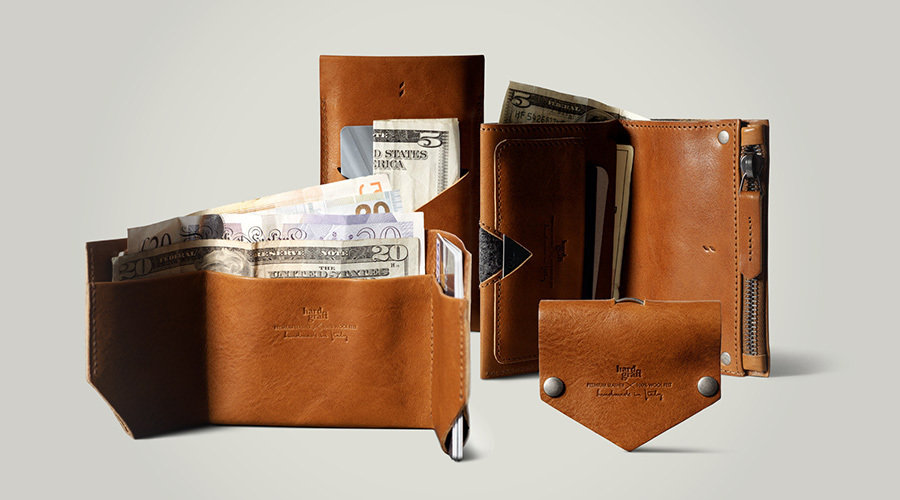 (photos: Hard Graft) Hard Graft Phone Card Case (€75) / Wallets (from €89) / Key Folds (€20) | www.hardgraft.com
when we head down the clubs, we want to be sure that we bring only the essential items like cash/cards and out trusty iPhones but at the same time, we don't want to be looking downright shabby. hence, the Hard Graft Phone Card Case (€75) is a perfect 'go between'. breaking away from Hard Graft's tradition of leather and wool combination, the iPhone Card Case is presented in full premium vegetable tanned Italian leather and features a compartment for your iPhone 4/4S, as well as a separate slot that's good for a credit card or two, along with some bills. on the phone side of thing, it has a well thought out slot that allows charging of your phone and pushing out of your phone.
the iPhone Card Case is good for casual night out but when you out and about executing your business in the day, you would probably need a real wallet and probably a key fob to last you through the days. that's where the Bill Folder (€89) or Zip Wallet (€129) and the Key Fold come in. crafted from a single piece of premium vegetable tanned leather, the Bill Folder is good for up to six credit cards and your cash. the card side features a cut out that allows you to easily push your credit cards out. the Zip Wallet, on the other hand, is crafted from a combination of leather and 100% wool hailed from a British factory, and features your usual bill fold, credit card compartment, as well as a zipper area for your small change. you have your phone, cards and cash covered, so it only makes sense that you keep your keys covered and that's where the handsome leather Key Fold (€20) comes in. also crafted from vegetable tanned leather, the Key Fold is basically a stylish keychain that keeps your scratchy keys safely tucked away. click through for a few more look.