We have stumbled upon a variety of novelty watches, but nothing brings out the ultimate geek in you than the HDD Watches. Yes. You heard us right. Hard Disk Drive Watches. And it is not just a fancy watch that designed to look like hard drive, but it is a watch repurposed from actual one-inch microdrives. Originated as a joke back in January 2013, Parisian watch making enthusiast, Jean Jerome was enamored by the idea and decided to turn this joke into a reality. As fate would have it, he found out that the fast becoming obsolete microdrives turns out to have the physical size that could made for the perfect watch faces. Once Jean settled on the microdrive, he then worked on the watch case and the rest, as they say, was history.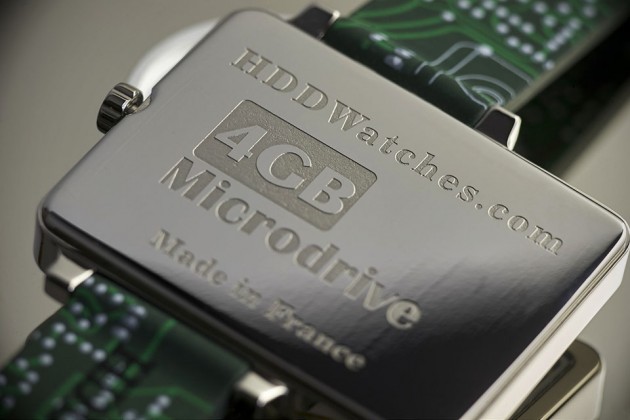 There is nothing geeky about this watch with respect functionality. It is just a simple watch that tells time, but as far as design is concerned, it is 101 percent geeky. Seriously, what can be more geekier than an actual microdrive for the watch face, complete with a strap printed with PCB design? The strap is intentionally aligned to the axis of the HDD's disk for a unique aesthetic and also for practical reason, such that the case won't be in the way of the your hand if you bend your hand backwards. That said, the watch is offered in two models to suit those who wear the watch on their left or right wrist. In keeping with the original microdrive, the name of the watch is intentionally engraved on the caseback, along with the HDD capacity and microdrive namesake.
The watch measure 47 x 37 x 8 mm and will come in the geekiest packaging it possibly can: in an antistatic plastic bag, slipped into a cardbox. If you don't already know, the proposed packaging is kind of endearing to geeks. While the parts are made in China, Jean insists that he will personally put the watch together and hence, what you will be getting is a watch assembled entirely in France. If the idea of a HDD watch sets your heart fluttering, then we suppose you would love to get your hands on one. If so, you can pre-order one from Indiegogo for 150 euros (around US$185) with delivery expected soon after the campaign has concluded i.e. within December 2014.