What you see here is the result when you put a motorcycle and an automobile division together to crack their heads for a new study vehicle. Dubbed Honda Project2&4, presumably so named as it is a fusion of two and four wheelers, this four-wheeler has the form inspired by the legendary Honda RA272 Formula One race car of 1965 and the heart pulled from Honda's competition motorcycle, a 999 cc V4 motor, but tuned for road use. With 14,000 RPM on the tap, this growling mid-mounted engine puts out 212 horsepower with a peak torque of 87 lb-ft (117.8 Nm) and is mated to a six-speed dual clutch transmission (also known as DCT).
A winner of the 2015 Honda Global Design Project, Honda Project 2&4 fuses the best of both worlds: the agility of a motorcycle motor and the stable, aerodynamic of an open cockpit race car. It boasts minimal bodywork with many of its components open like you would find on a motorcycle. It tips the scale at just 890+ lbs (405 kg) and measures a little over 3 meters (119.7 inches) long and 1.82 meters (71.1 inches) wide. True to Formula One race cars, it is super low profile, with a height of just 0.995 meter (39.2 inches) and a low center of gravity that promoted high level of responsiveness. It is a one-seater with a low-mounted "floating seat," evoking the freedom of a bike and "completing the immersion provided by Honda Project 2&4's extreme performance and unique engineering."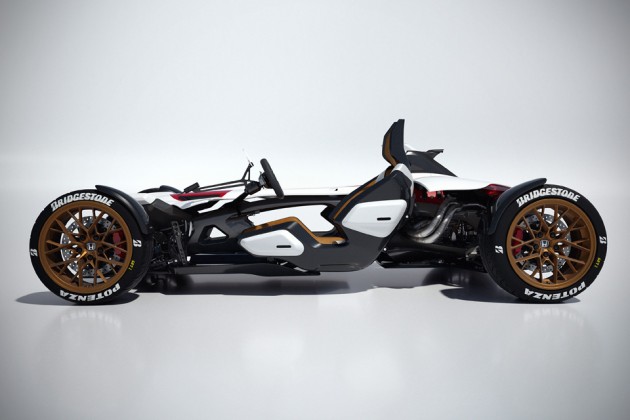 Though, no numbers were provided with regards to the performance, but looking at its power-to-weight ratio (4.2 lbs per hp, to be precise), there is little doubt that beauty could be a missile on wheels. The Honda Project 2&4 made its North American debut at last month's Los Angeles Auto Show and as you might have guess, it is a design study and probably won't be hitting the showroom anytime soon. In any case, you won't be driving this to work, given that it appears not to have any storage space for your briefcase or anything else for that matter.