at a glance, the HTC One M8 For Windows looks pretty much like the HTC One M8 launched earlier this year, but upon closer observations of this aluminum flagship's back, you will notice the usual clean look has been taken over by a noisy mess of branding – just so you know this isn't the same Android flagship that was aggressively marketed by the Taiwanese handset maker. on the back you will find Microsoft Windows Phone logo sitting right below HTC own logo and further down, there is the Verizon's branding along with the 4G LTE logo. so, yes. this is the HTC One M8 For Windows. it is basically everything you know about the M8 to date, sporting the same beautiful, albeit hefty, aluminum unibody and boasting top-end features like a 5-inch Full HD touch display, Snapdragon 801 SoC with quad-core processor, an UltraPixel main camera, a 5MP selfie-friendly front-facing camera and more, but with the soul of Microsoft Windows Phone.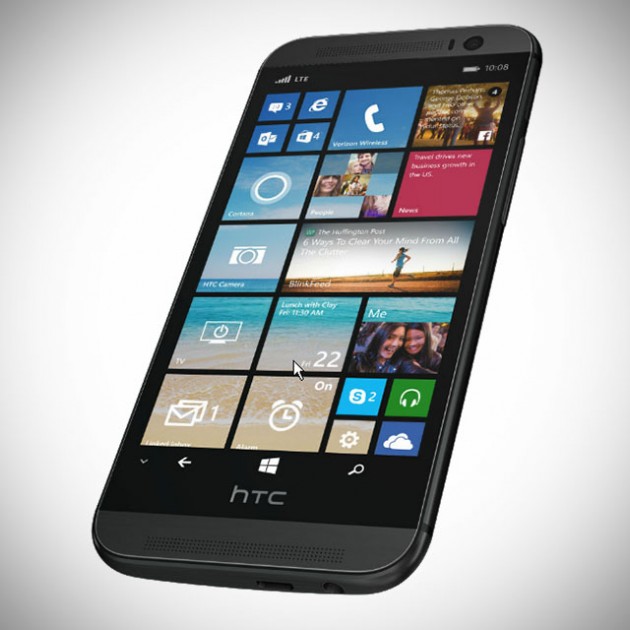 the mortal body aspects, as mentioned, are every bit of the M8. it even retains the M8 model identification, not W8 as previously suggested. so obviously, the key difference is on the software end, which you probably won't notice until you fire it up (well, that's if you haven't peep at the back yet). BoomSound and BlinkFeed (which itself is already very Windows-ish) features are also available in this Windows variety, along with the support for HTC Dot View case. the latter also support Windows' very own personal digital assistant Cortana (think Siri and Google Now). besides Cortana making the appearance, the Windows Phone 8.1 Update also touts features like Action Center for quick access to recent notifications and settings, and Apps Corner that sandboxes apps and folders into a protected area of the phone, so you can use your phone for businesses, such as a point-of-sale device, without broadcasting your personal info.
the HTC One M8 For Windows is available exclusively at Verizon Wireless for a special promotional price of $99.99 with a new two-year customer agreement, or $29.99 per month on Verizon Edge. you can also acquire the device at Microsoft Stores, which will be offering it with Verizon Wireless service (naturally) and also given the opportunity to purchase the HTC Dot View Case and screen protector combo at $25. the choice is yours.