Smartwatch is suppose to convenient you so that you don't have to pull out your smartphone from your pocket or purse every single time there is a notification, which is cool, but that's until we stumbled upon the Uno Noteband. Instead of several clicks or touches to get to your notification, Uno Noteband cuts it to just a couple and you don't even have to swipe to scroll through the message. Like Samsung's Gear S, it uses Spritz that automatically scrolls the message at up to 250 word per minute, thereby allowing you to read your notifications quickly without touching the wristband. Apart from that, it is what you expect from a wearable that promise to push notifications from a bevy of applications, including Facebook, Twitter, Google Calendar, and more, right to your wrist and reading the notifications is as easy as touching the Noteband whenever you receive it. A quick swipe to the right and left will turn the notices on and off, respectively.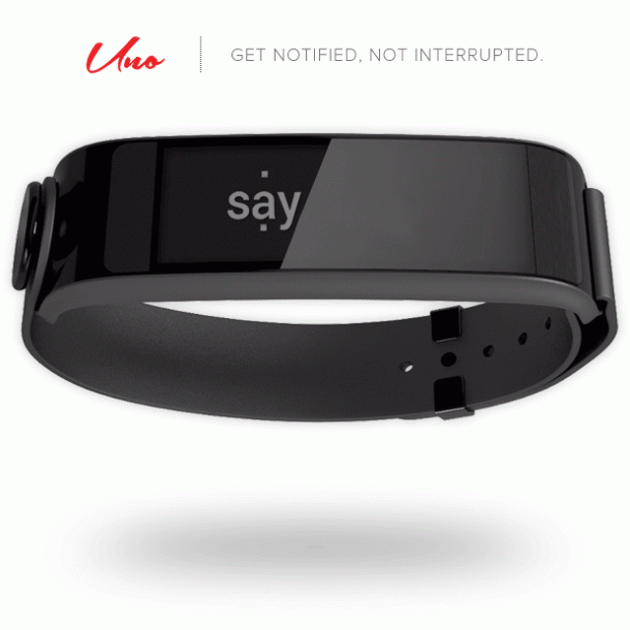 It can also setup to pull gaming notifications such as game alerts, invitations from friends on Xbox LIVE, Playstation, and Steam. At this point, you'd argue that Noteband is another smartwatch, if that's true, it will be the sleekest one we have seen to date, however, it is not; it is a notification band which does not want you to muck around with it and hence, it is only a read-only device. It lets you to be on top of your things, screen them and decide if you really need to response to them. The same goes for calls and so Dick Tracy device, it is not. You can only screen who's calling and dismiss direct from the wristband, but taking of calls still requires the physical phone. Uno Noteband does stop at the notification chores; it is also an abled fitness tracker too.
As a fitness tracker, it boasts the world's most advanced accelerometer and a six-axis Gyroscope to capture data like steps made, calories burnt, and monitors your sleep, and works with both Apple Health, as well as Google Fit. Though, there is no mention of Microsoft Health. Uno Noteband alerts you of incoming notification discreetly through vibration and can read alerts/notifications from different orientations. And it is of course, customizable to your need. Fronting the wearable device is an OLED display and it packs a rechargeable battery that last up to 3 days per full charge. If Uno Noteband's proposition sounds like music to your years, then you will be glad that you actually can pre-order it now on Indiegogo for just 69 bucks. But do note that you will not be seeing at your doorstep until April 2015. Keep going for product pitch video to learn more.