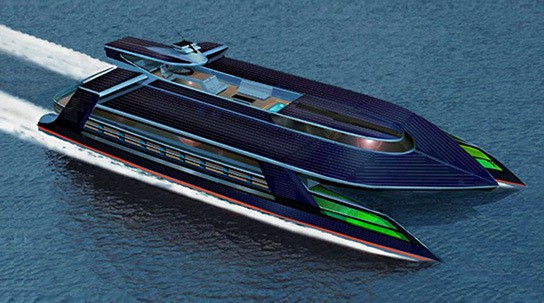 (image credit: Sauter Zero Carbon Design)
automobile are fast going green with electric propulsion system, prior to full-fledge electric vehicle (EV), there were hybrid vehicles which uses a little bit of both electric and petrol power. sea faring transport is heading that way too, and it is not new, at least to Sauter Zero Carbon Design who is known for concepts hybrid yachts. the latest to join the rank of Sauter hybrid boat is this 44 meters Ocean Empire LSV (or Life Support Vessel), with two Hydroponic farms and fishing facilities for harvesting from the sea.
[ad#Google Adsense-text-468×60]
power comes in the form of solar, wind and waves. by harnessing these sustainable energy, the Ocean Empire is said to have enough energy capable of 12,000 nautical miles every year. that's not all, when plugged into shore power, it is capable of pushing 360 MWh of electricity into the grid. on the solar end, this LSV has a 400 square meter solar array to ride on the power of the sun. while wind power comes from an auxiliary 80 square meter, 200 kW automated SkySail, that's capable of driving the Ocean Empire up to 18+ knots, and charges her GM ESS2 Battery Systems.
last but not least, a Motion Damping Regeneration (MDR) captures the energy from the waves pounding the yacht. the MDR system is essentially an adjustable tuned mass damper, similar to the one used in skyscrapers to minimize its swaying motion. the difference is, in this vessel, the weight comes from the batteries, which weighs in at 16 tons. as the mechanism dampens the motion of the vessel, the linear generator converts this energy into useable electricity of up to 50KW. at the heart of the yacht is the Daimler Turbo Compound BlueTec engine (DD16), which is the most advance EPA diesel to date.
the Ocean Empire LSV has a cruise speed of 12 knots and can accommodate eight crews and ten guests. simply wow. you can be entirely responsible even when entertaining your guests. best of both worlds.
via BornRich