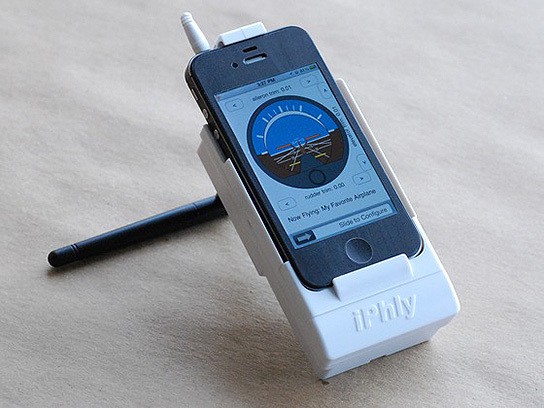 (image credit: iPhly) iPhly Radio Control with iPhone | from US$70.00 (special) | www.iphly.org
iPhone takes on the task of controlling your radio controlled model with a twist. typically, a radio controlled model uses a transmitter (TX) to relay your inputs to the model's receiver (RX). the RX in turns send the input to the necessary components such as the servos, electronic speed controller et cetera. however, Ari Krupnik has another idea: using your iPhone as the transmitter instead, using his invention called the iPhly.
a standard RC model transmitter has a small storage capacity where it will capture information such as the detail control preferences relating to each model. there's absolutely no problem with it but being a RC heli and car hobbyist myself, i understand the frustration of scrolling through the pages of menus to input our preferred settings on the TX. the iPhone offers the advantage of bigger, beautiful colored screen and of course, more than ample capacity for data storage.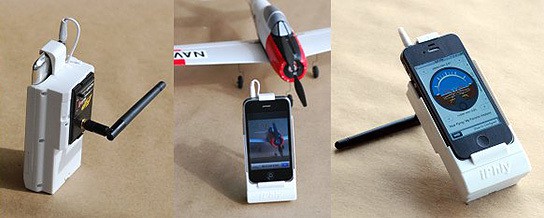 (image credit: iPhly) works with Spektrum, Futaba, HiTec, FrySky, Corona and Futaba-style RF modules
iPhly consists of two parts, the app component and the hardware that attaches to the iPhone. the hardware is a case with a cradle to hold the RF module from your existing TX and within it lies a bunch of electronics that amplify and translate this signal that your RF module will understand. the hardware is also Buddy cord-friendly, thus it can be hook up to another TX for training purpose or use it with RC flight simulator to hone your flying skills.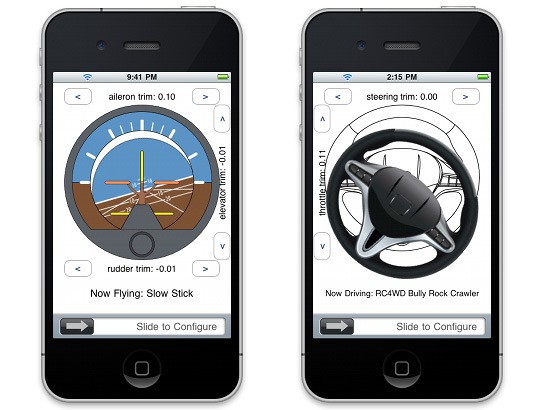 (image credit: iPhly) the flying control (left) and driving interface (right)
control via iPhone differs slightly for each type of RC type. for example, in the case of an aircraft, tilting the iPhone to its sides, rolls the aircraft left or right while tilting it up or down adjust the pitch of the model. gestures are also used as part of the control. swiping up or down, throttles up or down while swiping left or right, makes the model yaw left or right. flying with conventional sticks is in itself a challenge, therefore, i 'm not sure how this iPhly will work out for flyers. operation for land and water-based RC such as trucks and boats should be fine but flying could be altogether another challenge.
you can DIY a iPhly for yourself via the open source instruction available on iPhly website. alternatively, you can show your support for this product by making a pledge of $70 or more at Ari's Kickstarter page. the iPhly app cost $14.99 and is available on Apple AppStore now. check out the iPhly intro video below.