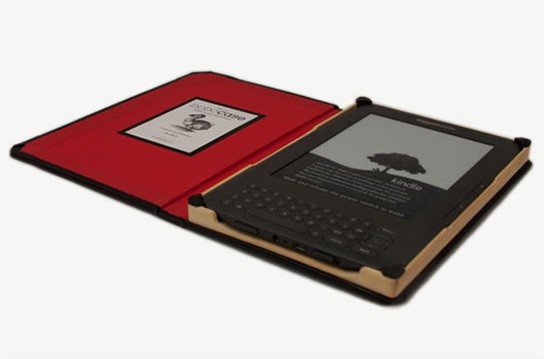 (photo credit: dodocase.com) DODOCase for Kindle 3 | from US$49.95 | www.dodocase.com
remember the made-by-hand iPad case by DODOCase? well, now Kindle 3 users can also don up their Kindles with DODOCase. as with the original DODOCase, the cover are made from black faux leather and constructed using traditional bookbinding techniques. an elastic strap keeps the Kindle sealed tight.
[ad#Google Adsense-text-468×60]
the tray is crafted out of bamboo which is strong and lightweight. it looks cool too (the bamboo), as opposed to some crude looking plywood. the tray has every nooks that are required to let users access to all the buttons and ports on the Kindle 3. a case that is very befitting for the Kindle 3, making your Kindle looks even more like a book or journal. after all, Kindle is an electronic book isn't it?
since it is hand made, it will takes 2-3 weeks of production time from the date of order. i have a DODOCase for iPad myself and its definitely worth the wait. however, my experience with the DODOCase for iPad is that the foam pads isn't holding up that well. my iPad won't fall off but its kind of eye sore and worst, i can't find a proper replacement foam for them. i hope DODOCase has managed to resolve the former issue with the foam corners.
there are a choice of 6 different colors for the interior. the default red retails at US$49.95, while the rest of the colors cost US$54.95. check it out at DODOCASE.