In a desolated future, drones of the ruling government (which could be our robot overlord, btw) patrol the skies, seeking out dissidents, rebels and criminals. It is a grim picture of the future, but you can imagine this is a possibility if sophisticated computer that connects us and the many things in life was given superior AI. Of course, not everything is this grim. There would be drones that deliver cargo, save lives and there would also drones with robotic arms that can grab things. Well, Japanese drone maker, ProDrone, is probably not the company to be responsible for this grim future, but it does have the aforementioned robotic arms-equipped drone and it, the PD6B-AW-ARM, as it is called, looks totally like a thing pulled from a sci-fi movie.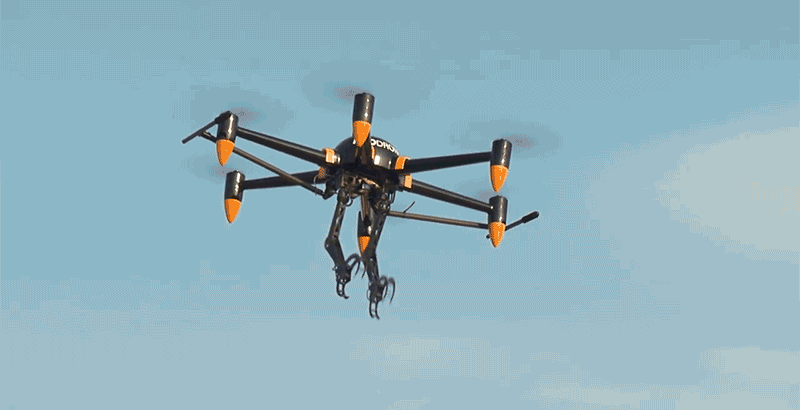 Creepy in a way and more so if you knew it can perch atop of on areas, such as a railing, using its dual robotic arm like a bird of prey, apart from, you know, picking up things of up to 10 kilograms (22 lbs) in weight. The drone was presented by the Nagoya-based drone maker earlier last month at the International Drone Conference and Exposition in Las Vegas. PD6B-AW-ARM was born out of the desire to create drones that are able to "directly perform specific 'hands-on' operations," such as carrying odd shape cargo, dropping lifesaving buoys, picking up suspect hazardous materials and to cut cables, turn dials, or even flick switches – just to name a few.
Of course, we can imagine the use of this, but we are also wary of the presence of flying robotic arms coming down from the sky and with an maximum ceiling of 5,000 m and a top speed of 60 km/h (37 mph), you won't even see it coming. And oh, did we mention that it is totally weather resistance? Ok, sounds like a potentially grim future we are heading towards, but it won't be if we decide not to give them crazy clever AI. Btw, ProDrone also makes drones that capable of landing and taking off on water, and if it helps, they also make net-shooting anti-drone drones too.
Here's the PD6B-AW-ARM with 5-axis robotic arms in action:
And here's a video of what the company do:
Images: ProDrone/screengrab from YouTube video.
Animated GIF by Gizmodo.
via Gizmodo