Most people have desires but I am pretty sure most of us do not have the desire to become something else other than a human. Oh, wait. I just remembered this is a bizarre world where there are folks who have very strong desires to become a cat (R.I.P. Dannie Avner), a lizard, an orc from The Lord of the Rings, a, ermmm, "gender-less" dragon, and now, we heard even a dog.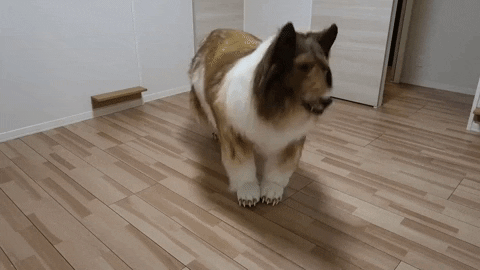 Though granted, wanting to become a dog is definitely less shocking than a reptile or an orc. Anyhoo, the story went that a Japanese quadrupedal animal lover known by his Twitter handle Toco (@toco_eevee) has always dreamed of becoming a four-legged creature.
However, instead of extreme body modifications that are irreversible, Toco (トコ) has opted to go with a costume. And as for his choice of animal, Toco decided to go with a dog – specifically a Collie, which is his favorite breed of dog. Toco ordered a custom Kigurumi, an oversized animal costume from Zeppet Workshop [JP], a specialized modeling and art studio of creative studio Blast, Inc. [JP], to realize this lifelong dream.
Together, Blast and Zeppet turn out life-size, life-like models of animals, mechas, and animatronics for movies, as well as realistic animal suits for personal use.
Toco's Collie suit, which features an incredible level of life-like details and synthetic fur to further boost its realism, took 40 days to make and cost a pretty cool 2,000,000 yen (about US$15,500).
Collie was chosen in part because the structure can better conceal the original form of a human, to enable Toco to look more like an actual dog.
Since after sharing his dog life, Toco has become a celebrity of sorts, even appearing on Nippon TV's morning show as, well, a dog.
While looking and behaving like a natural dog, may we suggest Toco as the dog not get into any "scuffle' with other dogs because he is so going to lose in a dog fight. Just saying…
Images: Twitter (@toco_eevee)/Zeppet Workshop [JP].
via Grapee.