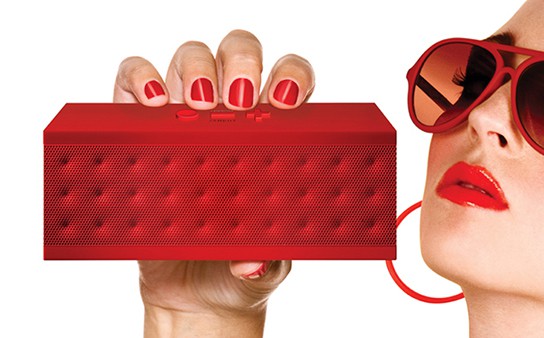 Jawbone JAMBOX Portable Bluetooth Speaker | US$199.99 | www.jawbone.com
new from the maker of Bluetooth headsets, Jawbone, is a portable Bluetooth speaker dubbed JAMBOX. Jawbone promised to deliver the biggest sound in a smallest package with the JAMBOX. the JAMBOX touted an output capacity of 85 decibels (dB) which measures somewhere between a motorcycle and a rock concert sound level. you get the idea how big the sound is. the JAMBOX features a pair of proprietary acoustic drivers which are capable of producing "extreme high (tweeter) and low (woofer) frequencies from a single, ultra-small dome speaker" and a proprietary moving-wall passive bass radiator. all these goodies are enclosed in an airtight enclosure constructed out of stainless steel and industrial-weight molded rubber casting.
the JAMBOX runs of a rechargeable Lithium-ion battery which is capable of 10-hours of continuous play (subjects to volume level and audio content) which recharges via the micro-USB port. the JAMBOX measures 151 x 57 x 40, weighs 327 grams and comes in four designs for your choosing, namely, black diamond, blue wave, grey hex and red dot. if paired with an iPhone, the battery life of the JAMBOX will be displayed on the iPhone. JAMBOX employs Bluetooth 2.1 EDR with a range of at least 33 feet (10 meters) and supports both Windows and Mac. with all the specs (though not specifically detailed), it certainly sounds promising but we just have to wait to audition it before we can really believe what we read. retailing at $199.99, it looks like big sound doesn't come cheap.