In defense, the sky has interceptors and so does the sea but what about the land? The land has none… that's until now. Folks, meet the Cockerill i-X, the first-ever ground interceptor. This ground defense high-speed interceptor armored vehicle by Belgium-based mechanical engineering group John Cockerill uses an enhanced rally car chassis and touts a low center of gravity and a refined aerodynamic – something which is hardly considered for a military vehicle in the past.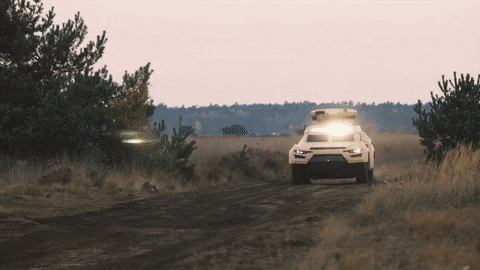 The body of the Cockerill i-X is partly made from carbon fiber which allows it to keep its weight to around 3.5 tons. It is powered by a gas-electric hybrid engine that produces no less than 800 hp and has 600 km (373 miles) of range. It has an all-electric range of 30 km (19 miles).
The Cockerill i-X might be the quickest and fastest heavy weapon-carrying vehicle yet. It might just be quicker and faster than your daily ride too. It has a maximum road speed of 200 km/h (124 mph) and it tops out at 160 km/h (99 mph) on the desert tracks. It can swiftly get to 100 (62 mph) from a standstill in just 6 seconds and pull to a complete stop from 100 within 40 meters (25 miles).
The electric drive offers about 50 hp, btw. The vehicle offers Level 2 STANAG 4569 ballistic protection and Level 3 STANAG 4569 protection against mine. High-performance suspension comes standard and it has built-in jacks to lift the vehicle from soft sand.
The i-X is transportable by air using a plane and helicopter and can be airdropped by a parachute. It is, of course, transportable by sea by ship, as well as by train and trucks over land.
The coolest part about this vehicle is not only its power and speed but its firepower and how the firepower can be concealed. The armament is mounted on a remotely controlled turret that can be retracted to be flushed with the vehicle's roof to improve dynamic when traveling at high speed and also to be less conspicuous.
The turret can rotate 360° and can tilt from -10° to 60°. The remote turret, which weighs 650 kilograms (1,433 lbs), can be adapted to specific missions. It can be armed with a 25 mm or 30 mm cannon with 120 ready rounds as its main armament, and 7.62 mm gun with 400-600 ready rounds, or 12.7 mm with 400 ready runs. It can also be outfitted with 2-4 anti-tank guided missiles or a 7-tube anti-LAV rocket launcher.
The turret is bolstered by multi-systems tracking, a 360° 2-axis stabilized sight that affords day and night targeting to up to 15 km (9.3 miles). Only two operators are required to operate this super-fast armored fighting vehicle: a driver and a gunner.
Rounding up the package is an intelligent system referred to as Man-Machine Interface that affords the operator 360° situational awareness and allows the operator to manage threats, track multiple targets, share data with the team, control the weapon system, and more.
You may learn more about this super cool fighting machine HERE.
Images: John Cockerill.