black is commonly associated with tactical. green is often associated with John Deere's machines. so what happens when you give the typical green and yellow John Deere machines, specifically the XUV825i and RSX850i, a black makeover? result: super badass Midnight Black Special Edition Gators. we hate to be pragmatic here, but it is true that such sport vehicles look more awesome in black. oh then again, these aren't actually sport vehicles per se (they are utility vehicles), but still, black is awesome, no matter what. the Midnight Black Special Edition Gators are both garbed in custom matte black paint job, topped with charcoal graphics for the added tactical effect, or at least, to add some 'relief' that makes them look so brilliant.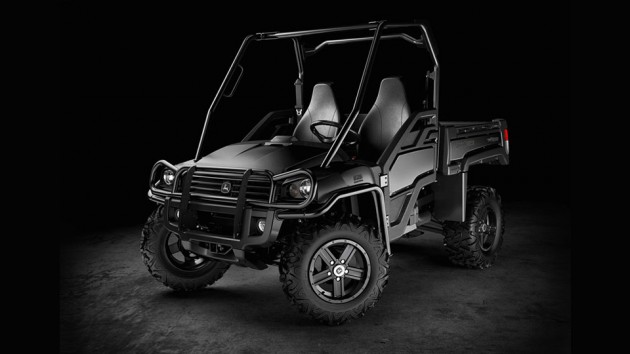 on the lower end of the scale is the 50 horsepower, 812cc XUV825i which has a top speed of 44 mph. standard features include sport steering wheel, power steering, high-performance exhaust, a long-range light kit, poly half doors. it is also given a set of matte black alloy wheels, wrapped in Maxxis 2.0 Bighorn tires and a deluxe cargo box with polyurea liner for storage duty. apart from those, the XUV825i is further customizable with options like power and front protection package, heavy-duty front brushguard, as well as fender guard, floor mats, and a choice of sport bucket seats or bench seat. if you need a little more oomph, the RSX850i is the one to look out for.
powered by a 839cc V-Twin unit with 62 horses on the tap, it is capable of topping out at 53 mph. the XUV825i rides on black and silver allow wheels, also shod in Maxxis 2.0 Bighorn tires and has sports seats as standard. for this model, trail sport package comes as standard which includes PreRunner bumper, Warn 3,500-lb. winch, a 2″ front receiver hitch with recovery loops, cargo box rail, full underbody aluminum skid plate, Nerf bars, Hella HID Sport lights (mounted on PreRunner bumper), Fox 2.0 performance series shocks, and a special edition door closeout panel. the XUV825i and RSX850i Midnight Black Special Edition Gators can be yours to own starting at $15,999.