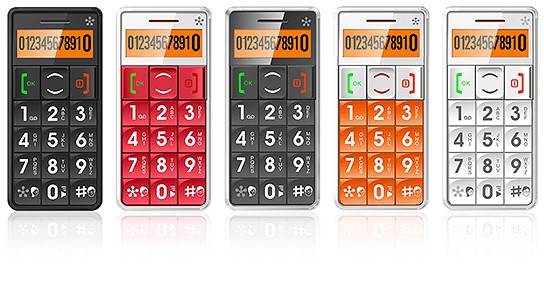 (credit: Just5) Just5 J509 Mobile Phone | US$89.99 | www.just5.com
at the first glance, it is easy to see why the J509 mobile phone from Just5 is touted as "the antidote to overly complex cell phones." we have absolutely no doubt about it. clearly, smartphone isn't for everyone and some non-smartphone aren't that simple as it seems either. so that's where Just5's J509 comes in – to fill the gap between the smartphone market and the not-so-simple cell phones.
[ad#Google Adsense-text-468×60]
from its prominently enormous buttons, one can see that this phone is totally suited for seniors. J509 offers user the ease of operation without the fancy functions that have invaded today's mobile phones and i must say, it is probably simpler to use than today's TV remote. beside the big buttons, there is another key feature that should appeal to seniors. J509 features a dedicated one touch 'SOS' button at the back of the phone. with just one press, it will automatically start texting and dialing the five pre-programmed numbers until one of them is answered. once connected, the phone will go into loudspeaker (handsfree) mode in case the user, for some reason, is not able to hold the phone. a loud alarm will sound off while the phone is dialing so as to attract attention of others. just the SOS function alone is enough for this phone to qualify as the essential phone for seniors.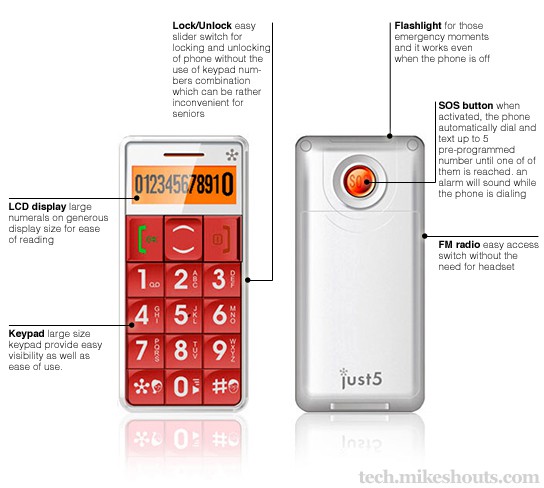 other senior-friendly features include amplified sound for easy listening and a simple slider button to unlock and lock the phone. no complex 'press this and that' combo just to unlock the phone, which may turn out to be a difficult task for older people. other features include a built-in FM tuner that turns on at a flick of a slider switch and the user can listen without the use of headset and there's also a built-in flashlight that works even when the phone is off. the J509 boost a 100 minutes talk time and has a standby duration of up to 6 days. personally, i think this is a must have for all seniors. the phone is not only a communication tool but also could be a life saver in time of need.
Just5 J509 is available via Just5 website for just $89.99 without contract and is available in five different colors: black, red, gray, orange and white. in fact, J509 is not the newest phone from Just5 but it is only in recent time that Just5 is made available in the US. we certainly hope it will be made available to the rest of world in due course.
huge thanks to Ruth and Alex.