We can't get by a day without mention Star Wars, can we? No, we can't. We can't help it cos' there are tons of interesting Star Wars-related items out there, even more so now that the official theatrical release is less ten days away. Disney/Lucasfilm is super eager to make sure even those living under the rock will get wind of the seventh instalment of the Star Wars movies. This entertainment giant has every corner of human's interest covered, including fashion, where it held a "Force4Fashion" exhibition to showcase Star Wars-inspired fashion and accessories. Among them, there was a little guy that stood out the most and it was the soon-to-be-iconic BB-8 droid.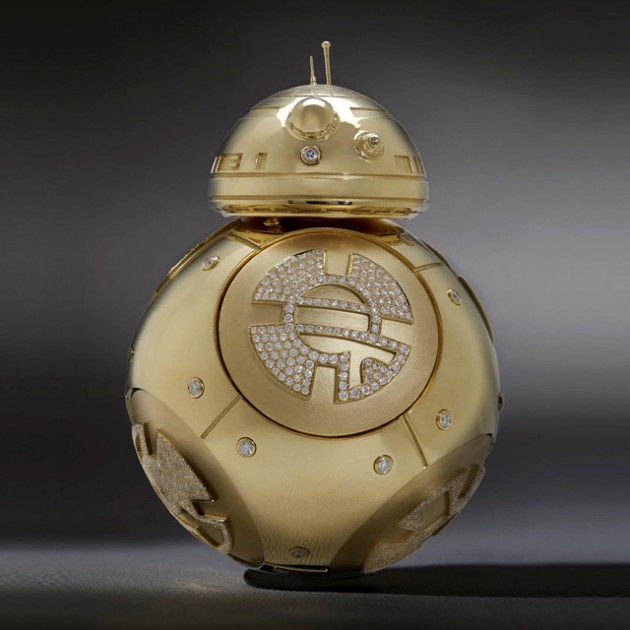 Mind you. This ain't a "run-of-the-mill" BB-8. Yes. It is still cute, but instead of the usual white and orange livery, Disney Consumer Products has teamed up with Kay Jewelers to pimp it up, granting the 4.25" tall BB-8 with 18-carat yellow gold finish, topped with no less than 860 diamonds worth some 18 carats. Unfortunately or not, this BB-8 with a touch of opulence won't roll like Sphero's or big screen big brother. It is more like a sculpture, really.
No word if you will be able to get your hands on one, though and even if it were to be available, it won't be remotely close to mortally affordable cos' the gold and diamond treatment, plus the 600 hours that went into realizing it, is said to be valued at $135,000. As a consolation, the apparels showcased at the Force4Fashion exhibition will be going on the block for the benefit of Child Mind Institute, on behalf of charitable initiative Star Wars: Force For Change.