there are things that are rare with this Lamborghini LPI 910-4 Concept that's rolling into Paris Motor Show; first, it is a concept, which is something the Raging Bull marque hardly do and second, it has an 'I' in addition to the usual nomenclature for Lamborghini, representing "Ibrido" which is Italian for 'hybrid'. so basically, from the model name, any hardcore Lamborghini fans already know that what's going on with this concept such as it will have 910 PS and it is all-wheel drive. the "Asterion" part of the namesake is a mythical Minotaur – a man-bull hybrid, if you aren't familiar with Greek mythology – may have something to do with the fact that the LPI 910-4 is a petrol-electric hybrid, just in case the 'I' wasn't that obvious, or vice versa.
with the Asterion, the Sant'Agata folks marries a naturally-aspirated 5.2-liter V10 petrol engine and a seven-speed DSG, good for 610 PS, from the Huracán with three electric motors packing 300 PS in total, giving the Asterion a peak power of 910 PS combined. that's assuming that those electric motors are running on their peak. this setup enables the LPI 910-4 to make the century sprint in 3 seconds flat and a top speed of 199 mph (320 km/h). we are sure if serious Lamborghini fans are all up for hybrid powertrain, much less what the electric motors can do. anywho, for those care to know, it can hit 78 mph (125 km/h) on pure electric drive and travels up to 31 miles (or 50 km) before the onboard battery conks out. with the hybrid drivetrain, the Asterion is said to made a combined fuel economy of 4.2L/100 km or 56 mpg, and an incredible CO2 emissions of mere 98 g/km. both figures are, of course, unheard from the raging bull marque until now.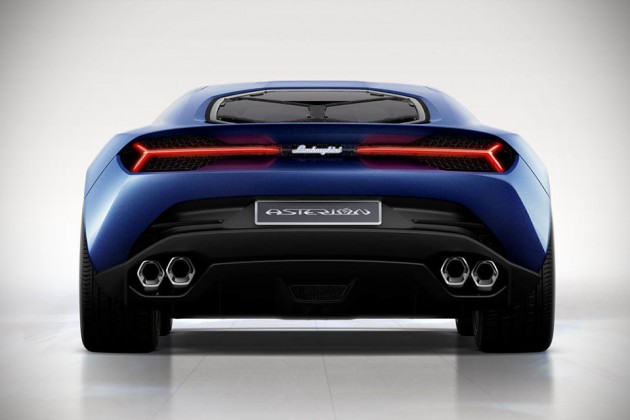 the brute power is complemented by a striking aesthetic that reminds us of the Stratos (definitely not the wedge shape that we are acquainted with), but a little less angular and not quite as sharp as we have anticipated for a Lamborghini. it rolls on massive 20″ and 21″ wheels in carbon components, shod in Pirelli tires. the large doors open up and outwards, allowing easy ingress and egress to a spacious cabin with more headroom for the occupants. the interior is largely minimalistic with most of the 'happenings' located in the center console, the three-spoke steering wheel and of course, the instrument cluster. no word if this hypercar will ever be produced, but our bet is, at least the powertrain will be in near future, which we think is necessary now that its close competitions have already done so. take a few more look after the break.