i have fond memories of Pulsar (or Sunny, as some countries called it) and so naturally, when Nissan brings back the Pulsar line, it creates quite a stir in me, but i also reserve my right to be skeptical cos' these days, cars are not what they used to be like in the 80s and 90s where Japanese import reined supreme. then, at this year's Paris Motor Show, Nissan has pulled the wrap off the Nissan Pulsar NISMO Concept, a design study aims to showcase the sporting potential of the new Pulsar and i am instantly suck into it. call me superficial, the striking, muscular look and ready-to-pounce stance really had me at hello and kind of makes the regular Pulsar looks a little inferior, if not lame. finished in a satin grey paint job and surrounded by NISMO's trademark layered double-wing in red, NISMO Pulsar's unique form is not by accident or mere vanity; it is designed by airflow analysis, giving it improved aerodynamics over the standard offerings.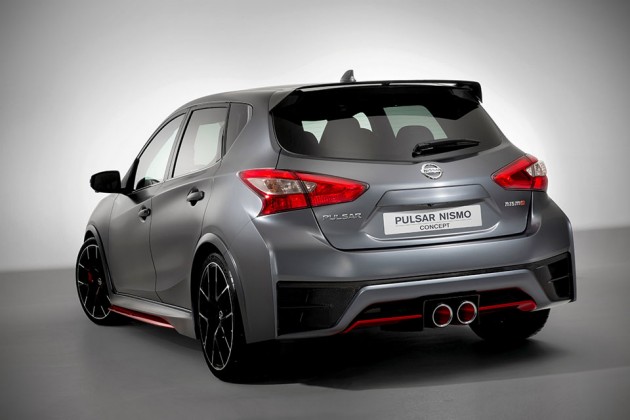 further functional go-fast bits include larger, optimized air intakes, striking brake cooling vents, deeper side skirts, lower ride height, a diffuser-style rear bumper with central twin exhaust pipes, flared wheel arches, carbon fiber rear spoiler and huge 19-inch five-spoke alloy rolling stocks shod in low profile 235/35 R19 rubbers. additionally, there are other bits of cosmetic that makes this C-hatch stands out from the crowd, but we shan't go into details. on the inside, you will find the obligatory race-inspired theme with stuff like red-colored tachometer, deeply sculpted sports seats in Alcantara, three-spoke steering wheel and the mandatory alloy pedals. unfortunately, what gives under the hood is unknown, however, Nissan has pointed out that NISMO Pulsar does have "a revised suspension system that incorporates settings honed on the racetrack." the spring and damper settings are revised, along with a modified steering for even more direct response, offering the car an agile and sporty driving inline with NISMO models.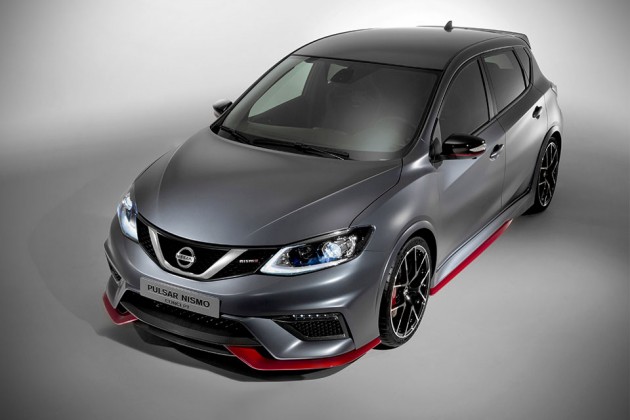 beyond those tidbits, there is really little info at this point. Nissan said "more information will be available in due course" which usually means it will take quite a while. in the meantime, there is a new engine added to the Pulsar range, a 190PS 1.6 DIG-T, which is set to be available from Spring 2015. this turbocharged unit turns out a healthy 176 lb-ft (240 Nm) of torque starting at just 1,600 rpm and will be the sportiest Pulsar money can buy until a NISMO or better still a NISMO RS comes along. to be honest, Pulsar by itself is, well, just another car. but with the NISMO-souped up variant being showed off and a more capable turbocharged unit introduced, it might just make this otherwise just-another-hatch a little more interesting, if not the most interesting C-segment cars today. one thing for sure is, it is definitely more exciting than the over Renault-ish Latio.