sometimes we feel bad. feel bad about telling you folks about radios that have access to 50,000 radio stations when in actual fact, most people have just one favorite station, possibly because that's all the time most people have. hard truth. and that's the basis of the existence of Public Radio, a single station FM radio that is pre-tuned to your one and only favorite station. it is a simple gadget but no less super cool. minimalist throughout, the Public Radio is built into a mason jar with the lid being the home to the necessary electronics to get the one station to you.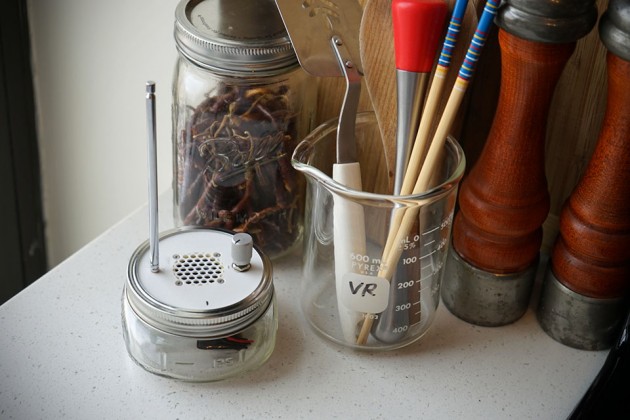 complexity is non-existence here. all you have is a shinning lid with a cluster of holes to let the audio out from its lone Texas Instrument class D amplifier driven 1.25″ speaker by Dayton Audio, a seven-segment antenna and a volume knob. that's all there is to it. need a little music to fill your life? just twist the volume knob and if necessary, extend the antenna, and your favorite FM station will come to live. no connectivity to bothered with and most certainly no need to procrastinate over what songs or genres you want to listen today – just turn it on and enjoy the mix tunes, randomly spin out by your favorite FM station. while we are excited about advanced technology, sometimes we do appreciate simplicity. we don't need big drivers, mahogany enclosure or complex connectivity to enjoy random tunes. and oh, and you can dispense with the need for recharging too, cos' this thing runs off two AA batteries and from our experiences, they will run a very long time for radio operation.
and the fact that it is screwed to a square-ish ball jar, gives it a special mention on decor factor. in another word, it is both unique and fun. since it uses a mason jar, you can swap the hardware out into any wide-mouth jar of your choice to suit your style. you can even decorate the jar with your creativity and imagination, turning the radio into something truly unique and personal. the choice is yours. obviously, Public Radio is not for the furious channel switchers, but you are enamored by the idea of one station for life (a little extreme, but you get the idea), then head on down to Public Radio's Kickstarter page to pre-order one for $48. for those who are more electronically-inclined, you can grab the Maker Kit for just $35 and solder your own.