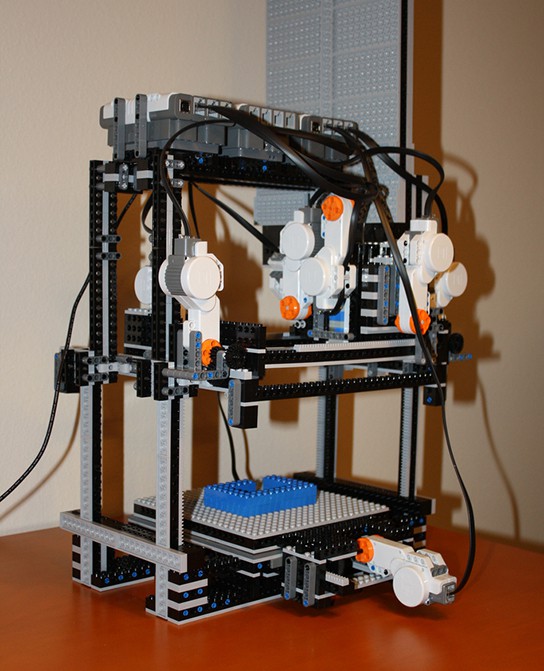 (photo source: battlebricks.com)
don't let SkyNET get a wind about this. this mean Lego Mindstorms NXT machine can churn out Lego models. yes, you heard it right, earthlings. throw in some A.I. (artificial intelligence), this machine could be replicating itself and an army of Lego minions. well, fear not. we are safe for now cos' this machine currently builds simple Lego models only. *phew*
Will Gorman, a member of the BattleBricks, build this out of 3 Lego Mindstorms NXT Bricks, along with 9 NXT motors and 2400 lego bricks. this Lego Mindstorms NXT 3D Lego Printer is being showcased in the LegoWorld Expo (October 22nd to October 26th, 2010) in Zwolle, The Netherlands. Will cited his inspiration from MakerBot and RepRap. personally, i have read both websites and i am inspired to create one myself too. exploration (tech, not nature) is certainly exciting.
the MakerLegoBot receive its printing instructions from MLCad Lego file via a Java Application on a PC, determines the print instructions and sends the instructions to the MakerLegoBot for printing via USB. the MakerLegoBot works with 1×2, 2×2, 3×2, 4×2, and 8×2 Lego bricks and there's a feed system in place which can hold approximately 35 bricks of each type. all i can say is 'wow'.
you can buy one now but you can build one yourself with the detailed instructions HERE.
visit BattleBricks website.
check out Will's Lego Mindstorms NXT 3D Lego Printer webpage.