LifeProof is the opposite of Mophie. While Mophie began as a portable battery maker, the San Diego-based company started out as a specialist maker of rugged cases for your lovely gadgets, but despite the difference, it looks like there's a convergence happening cos', like Mophie, LifeProof has also introduced a ruggedized, waterproof iPhone 6 case with integrated battery pack, dubbed LifeProof FRĒ. It makes us think: shouldn't this be around since the beginning? I mean, ultimate protection and increasing demand for battery power have long been the woes of any smartphone, more so for a beautiful but undeniably fragile device like the iPhone 6. Anyways, FRĒ Power Battery Case is LifeProof's answer to Mophie's Juice Pack H2PRO.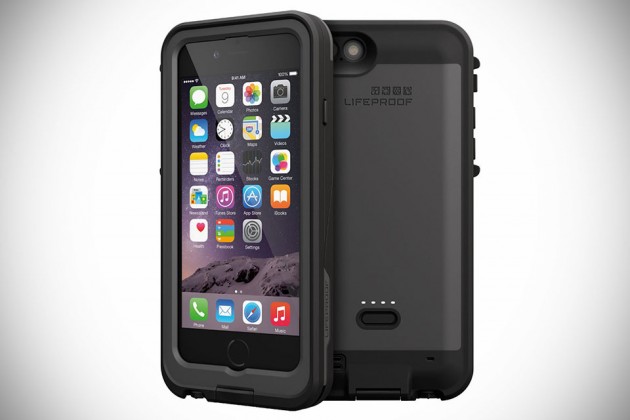 It packs a 2,600 mAh lithium-ion battery that offers two times the battery life on your iPhone 6, while keeping it securely shielded from the elements. FRĒ Power is waterproof to 6.6 feet (2m) for an hour and can sustain drop from as high as 6.6 feet, and is of course, sealed against the aggression of dust, dirt and even snow. As water-friendly case, it naturally comes with a built-in screen protector, integrated into the case. Protection against ingress of solid and liquid is rated at IP68 and as for ruggedness, it is said to meet military standards for drop and shock resistant. It also boast smart charging technology where it will automatically stop charging when the phone is topped, so no power is being wasted. A handy button lets you engage the power, while LED lights in 25 percent increments offer you an insight into how much power is left on the battery.
LifeProof FRĒ Power Battery Case is compatible with LifeProof's LIFEACTÍV universal accessory line, such as bike and bar mount, belt clip and more. You can pick up the LifeProof FRĒ Power Battery Case for iPhone 6 via LifeProof online store starting today for $129.99 a pop.