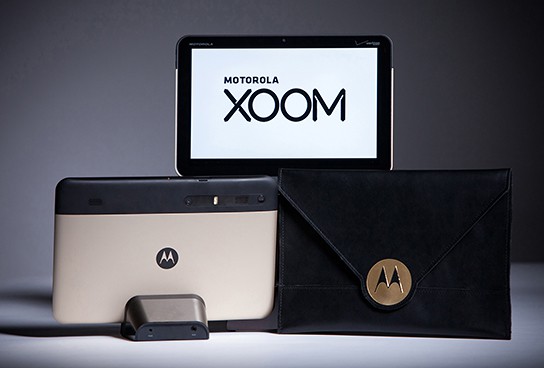 (image credit: Motorola)
among the glitz and glamour of last week's 83rd Academy Award, there was something that was equally dazzling which most of us don't realized. Motorola is not usually the name to be associated with Hollywood's most glamourous event of the year but this year Motorola has a very special gift in the form of a limited edition gold Motorola XOOM complete with a custom leather envelope case, for a group of exclusive stars. yeah, that's right. this year's host and top nominees, who probably are too rich to care less about a tablet, walked away with this very limited edition gold tablet. damn. aren't they are lucky?
in case you are wondering, who are those lucky nominees, they are the hosts and the nominees for Best Actor, Best Actress, Best Supporting Actor, Best Supporting Actress and Best Director, which i believe, you guys already knew who they were. kind of like a congratulatory prize for being nominated (and bonus to those who have been awarded) but i am pretty sure, the value (of the tablet) weren't even a fraction of the cost of their wardrobes. nevertheless, it was a befitting gift for the nominees as the XOOM was also a multiple award winner itself, which has bagged a total of eight awards, including the coveted CNET "Best of the Show" at the CES 2011.