I never grew up with Little Tikes Cosy Coupe; never had the money. But I do know it was a "dream" ride-on for many kids and if you happen to be one of those lucky kids who one) earns a decent income and two) lives in the U.K., then you will probably be thrilled to know your childhood cosy coupe has grown to fit the adult you and is totally road-legal. It is not from Little Tikes, though; they don't make real cars. And yes, we said "real cars, " because the iconic red and yellow is a real custom-built road-going car that shares identical aesthetic with ride-on toy counterpart.
"Late last year we wanted to make something fun and when an associate mentioned that he'd motorised a Cozy Coupé for his son, John was struck with an instant vision – a life-sized road-going version! That was to be the new project; John went home that night and drew the plans up taking it in the following morning to show the crew. It took a little convincing due to the amount of projects already underway but they finally all accepted and the Toytown Coupé concept was born. "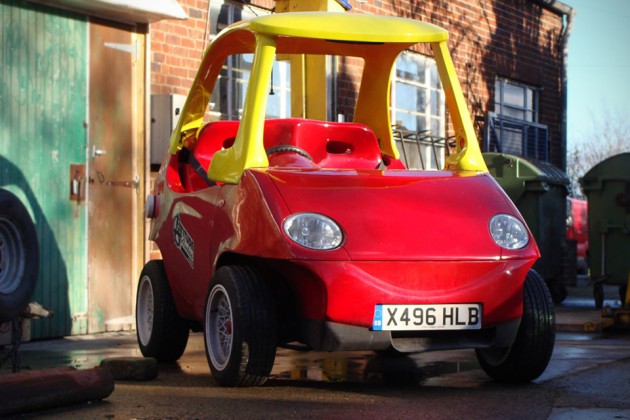 Custom by U.K. Attitude Autos, the car made the news back in 2013 and it currently for sale on eBay. The auto mod shop did not build from scratch, though; the car started its life as a Daewoo Matiz, which it inherits most what the Matiz has – all but the look. It took Attitude Autos 16 weeks to complete the transformation and since its completion in November 2013, this car have done quite a fair bit of charity work.
Like the toy, Crazy Coupe, as it is called, sports massive windows, albeit the lack of glass, has hard plastic seats but with seat belts, and travels at a brisk 70 miles an hour (112.6 km/h). Attitude Autos is asking 21,500 Sterling Pounds (about US$33,300) for it, but before you jump on it, you will have to be comfy with manual transmission cos' this cutie has a stick shifter. Don't complain. At least, you don't need to pedal or kick to get it to move. Check out BBC's coverage of this Little Tikes-based road legal car in the embedded video below.