If you think Lotus Exige S lacks of the pure driving experience, then Lotus must have heard you cos' it has "applied the Club Racer ethos" into it to enhanced the vehicle's track-focussed potential and the British sports car maker is calling it Lotus Exige S Club Racer. Essentially, you are looking at a track-friendly example that is of course, road-worthy too. While the 3.5L supercharged V6 engine is basically a carry over, Lotus has relief this rev-happy model of 33 lbs (15 kg), thanks to the new lightweight battery and center console, lighter doors, as well as lightweight sports seats wrapped in a choice of leather or Alcantara, complete with color-coded stitching.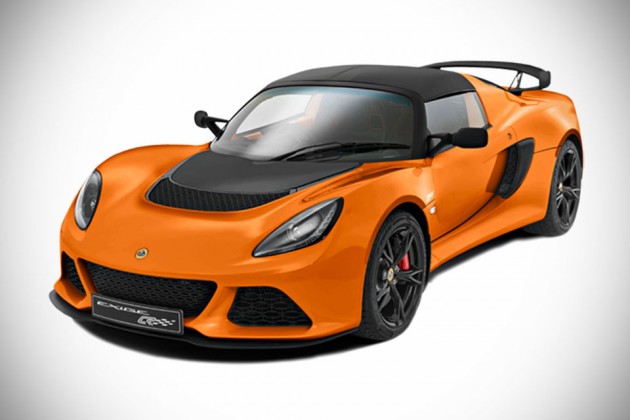 Lotus claims that the Club Racer iteration is faster, but looking at the papers, it looks like the century sprint (0-62 mph) and top speed are pretty much the same as the regular Exige S, locking in at 4 seconds and 170 mph, respectively (only manual version is available for this special edition, btw). Power output and torque also remains unchanged, topping out at 345 horses and 295 lb-ft (400 Nm). So where's the fast? Beats me. But it is a Club Racer, right? So we shan't question it. Anyways, other mentions you can expect include a lightweight aluminum chassis-tub, aerodynamically enhanced composite bodywork boasting 92 lbs of downforce at 100 mph, three traction slip options (Drive, Sport and Race), and color-coded center console.
The key difference between the Club Racer model and the standard model is in the equipment level (apparently valued at over £4,000) and of course, there is also the obligatory Club Racer decal which you will find inside the vehicle and and on the exterior. The Exige S Club Racer is offered in Metallic White, Exige Orange, Metallic Yellow and Matt Black as an option. But whichever colorway you choose, this special edition will sport matt black paint job on specific parts like the front splitter, rear wing, front access panel, roof panel, wing mirrors and rear transom. And the price? £56,900 and up (around US$85,000). That's a £2.400 premium over the standard Exige S which starts at £54,500. We shall leave it to you to judge if it is worth the money.