Apple's new 12-inch MacBook is super thin and pretty, but with crazy thinness, comes great fragility. I guess you could say it is the law of the (gadget) nature, which we don't foresee a change unless there are some breakthrough in the field of material engineering. Anyways, if you're looking to bring this piece of beauty to some place that's rougher than your typical urban office, then the MacBook 12-inch Mil-Spec Rugged Case by Urban Armor Gear is for you.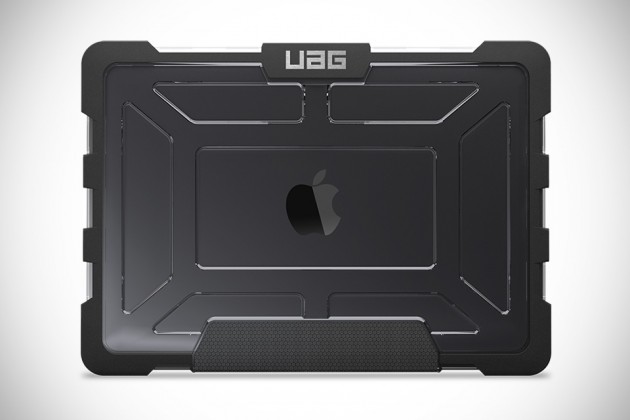 Touted as the first mil-spec rugged case for MacBook, this case is built to meet military drop-test standards, MIL-STD-810G 516.6, employing a combination of patent-pending hard composite outer shell and shock resistant rubberized bumpers in a one-piece design to shield your 12-inch MacBook from shocks and scratches that may come its way, and doing so while sticking as close to its slim profile as possible. A dual lock screen closure keeps the device closed when it supposed to, while FrogSkin non-slip grip ensures it will not escape your clutches.
Finally, proper cooling vents are place to make sure it maintains its cool even when heavily armored. The MacBook 12-inch Mil-Spec Rugged Case by Urban Armor Gear comes in a choice of two translucent colorways: clear (Ice) and gray (Ash), and is available now from UAG's web store for $79.95 a pop. Keep going for a few more look.