Marshall Headphones' portfolio has expanded, again and this time, it has made Marshall's signature sound available in a tiny package. Meet the Stockwell Travel Speaker, the smallest travel speaker made by Marshall to date, tipping the scale at just 1.2 kg and measuring 260 x 140mm. Despite its compact stature, Stockwell is no less well-equipped. Packed within its signature guitar amp-inspired design are dual 2.25" dome tweeters and a pair of 2.25" woofers, bolstered by two-channel Class D amplifiers, along with Bluetooth 4.0 technology for high-quality wireless audio streaming and rechargeable lithium-ion batteries to keep it going for up to 25 hours.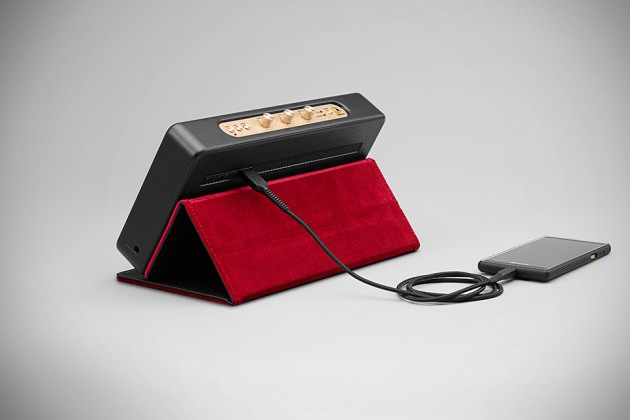 In addition, a 3.5mm audio jack is in place, catering to non-Bluetooth enable devices, while the USB port serves as a charging station for your USB-power gadgets. Like any good portable speakers, Stockwell can, of course, do duty as a speakerphone and it comes with now-standard double ended coil cord with 3.5mm stereo plugs. Rounding up the delightful package is set of controls: volume, bass and treble, presented in as retractable analog control knobs atop of the speaker, along side the 3.5mm audio jack, source, power, phone and pairing buttons.
The Marshall Headphones Stockwell Travel Speaker was officially unveiled at this year's IFA in Berlin and is set to go on sale in Q4 2015 for $229, or $259 with a rather fancy, but handsome flip cover. The said cover, which can double as a tilt stand, is also available separately for $40.