Ever since the adorable ball droid appeared in Star Wars: Force Awakened trailer and the official words that it was in fact not a CGI, it spurred imaginations and set people thinking: "what makes it tick?" But it is not long before folks figured it out and that's a good thing, cos' now you can actually own the BB8 droid and make it do your bidding, well, albeit, in a much smaller scale. What you are looking at is a miniature BB8 by the same outfit that makes ball remote controllable.
Dubbed BB-8 App-enable Droid, it works with Android or iOS devices through a companion app to let you operate in three modes: Driving, Holographic Messaging and Patrol. Driving mode is pretty straightforward; it lets you control BB8 using your smart device and in Patrol mode, you set a predetermined route for BB8 to patrol autonomously. But don't go gaga over the Holographic Messaging; it is not like the movies', but it will let you create, send and view virtual holographic videos with BB8. This means, this little guy won't actually project a holograph of your distress call, but rather, it uses augmented reality engine to turn recorded video messages into holographic-like messages, which you can then playback within the application.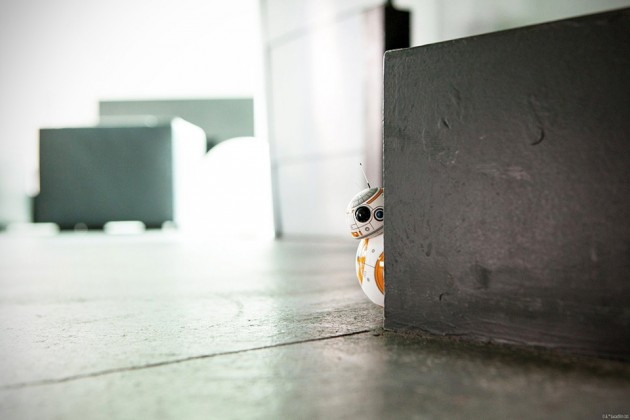 Being based on standard Sphero, it is not going to be like the 'real' BB8, but it is as close as you can get unless you DIY one yourself. That said, the original Sphero has been tweaked to include stuff like magnets to hold the BB8's head, and it uses Bluetooth Smart for communication between your device and the mini BB8, and it now comes with wireless charging cradle (in matching design, of course) that can be powered through USB port. BB-8 App-enable Droid by Sphero is available through several retailers (and e-tailers) for $149.99 a pop.