We are accustom to custom cars, trucks and the usuals, but a custom off-road sport vehicle? Well, that's kind of unheard of. Though, I am sure there are custom ATVs and sport vehicles out there. We have no illusion about that, but the Marshall Motoart "Superleggera" RZR 1000 is hands down the best looking, if not the best looking custom sport vehicle. This "Superleggera" of the off-road world is almost a ground-up built with only the motor, differential, knuckles and some power steering parts were carried over from the once stock RZR 1000.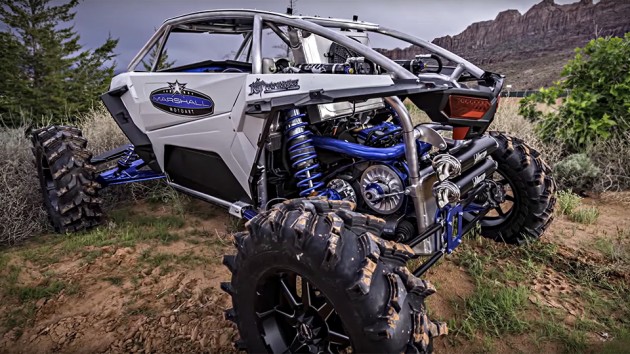 The rest of vehicle is essentially customs, ranging from the T-6061 aluminum one-piece chassis/roll cage to the aluminum suspension to the bodyworks. While the "Superleggera" seems taller, it is has a much lower roof and befitting its namesake, Lamborghini-like scissor wing doors are thrown in for good measures. Well, actually Chris of Utah-based Marshall Motoart explained that the doors are necessary for his access as he couldn't possibly fit through the narrow height windows. While the "Superleggera" may have a skeletal look typical of a sport vehicle, it does have a profile that Lamborghini would have had if they actually had an off-road monster.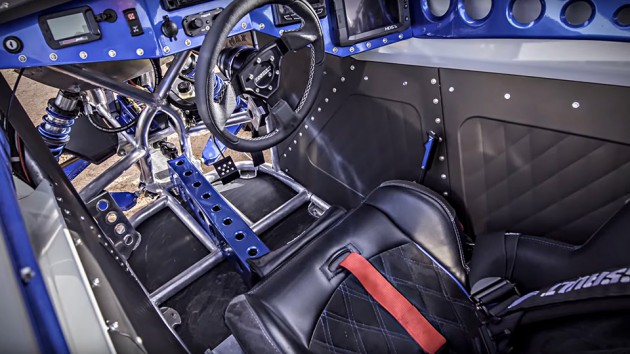 Furthermore, it also ditches the side-by-side, 2-seat arrangement and turned into a one-seater that comes complete with a Triple X sports with five-point harness. Under the hood, the stock 1000 motor was stroked out and stuck with a large turbo, matched to Muzzy exhaust that, in all, gives yield to a pretty off-road insane 330 horses when on 25 lbs boost. 330 ponies may not sound like a big deal for road-going cars, but think about this: this is an off-road sport vehicle and it has only 1,100 lbs (499 kg!) on it. Now that, my friend, is crazy.
To cope with the new-found power, Christ had the wheelbase stretched to 105 inches (2.68 meters) and makes it more "manageable." The one-of-the-kind "Superleggera" RZR 1000 was created for a TV show, Destination Polaris on Fox Sports and it took Chris and the team just 3 months to do so. Continue reading to catch Chris' walkthrough of the "Superleggera."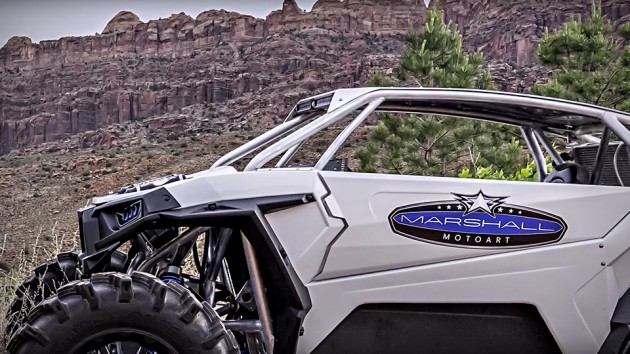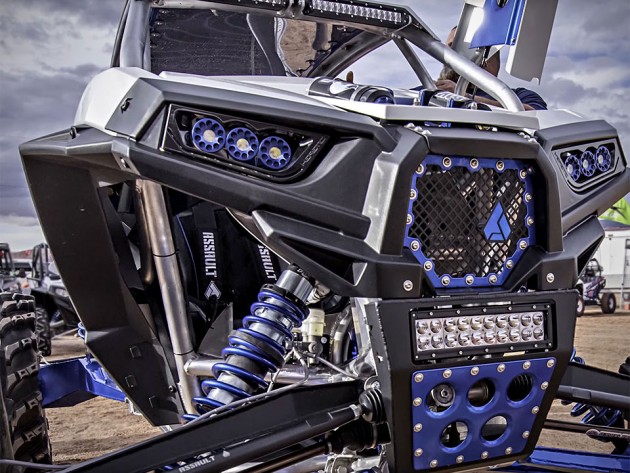 YouTube via Speed Society