So you think you are a Marvel Cinematic Universe super fan? Well, I hate to break it to you that you're probably not the biggest MCU fan, at least not until you acquire a set of the Marvel Cinematic Universe: Phase 2 Collection Blu-ray Box Set. Why? Because, besides loaded with six MCU Phase 2 movies – namely, Iron Man 3, Thor: The Dark World, Captain America: The Winter Solider, Guardians of the Galaxy, Ant-Man, and Avengers: Age of Ultron – spread across twelve discs, you will also be treated to an exclusive bonus disc packed with two and a half hours of supplemental contents, including stuff like never-before-seen deleted and extended scenes, a complete set of Marvel One-Shot films and commentary, plus From Here to Infinity: Phases 2 and 3 of the MCU that lets you in on the connections between the Marvel many universe. And those are just half of the story.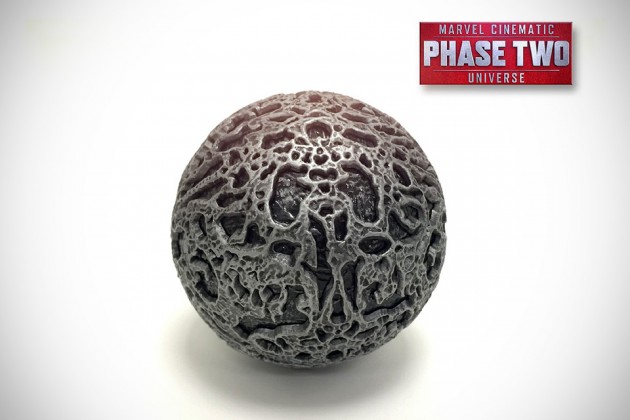 With the box set, you will not only possess the Blu-ray/Blu-ray 3D copies, but also the digital-only edition of the said movies. While it seems more than enough to satisfy your fandom, those are merely 'sideshows' in my opinion because, as a true MCU head, you would want a piece of the galaxy in your collection and that's exactly what you will be getting: a replica of an orb containing one of the much vied Infinity Stones. Speaking of which, nobody can guarantee your mortal safety cos' there's no telling if Thanos will be after your ass for the galaxy version of mortal's precious rock.
While you brood over your safety hiding in your basement (with a working HDTV and Blu-ray player, of course), you can marvel at other included goodies such as a gold-foil sheet from the Book of Dark Elves, an ancient drawing from the Morag vault, sew-on patches of Avengers and S.T.R.I.K.E. uniforms, and maybe even attempt to apply the replica of Tony Stark's tattoo from Iron Man 3 on your forearm (or anywhere of your choosing). The Marvel Cinematic Universe: Phase 2 Collection Blu-ray Box Set is available for pre-order only on Amazon and will run you back at a grand $219.99 per set. Official release is scheduled on December 8, 2015.