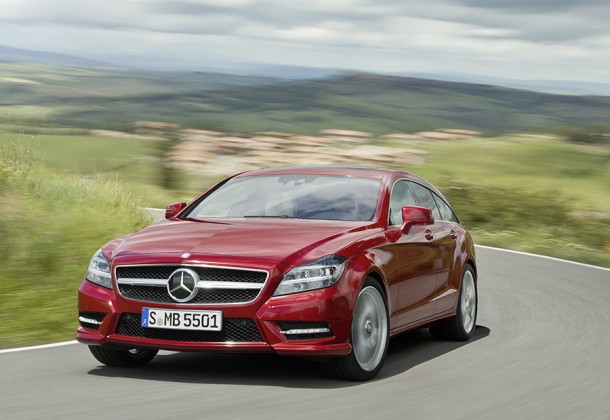 Mercedes-Benz CLS Shooting Brake | from €tba | www.mercedes-benz.com
traditionally, a sports coupe is defined by a 2-door style body but that was not in Mercedes-Benz rulebook when it created the 4-door coupe back in 2004. now, it is ready to challenge the notion once again by giving us the 5-door coupe. at a glance, the Mercedes-Benz CLS Shooting Brake looks like a station wagon but to call it a station wagon is unjust and probably an insult too – it is just CLS Shooting Brake, nothing more, nothing less. it is one sexy beast that is offered in four different engine variants: two diesel and two petrol units. the line kicks off with the entry-level CLS 250 CDI that puts out a decent 204 horsepower (150 kW) with its 4-cylinder engine. following are two V6 models, the CLS 350 CDI with 265 horsepower (196 kW) and the CLS 350 that delivers 306 horsepower (225 kW), and last but not least, is the range-topping CLS 500 fitted with a V8 biturbo unit that pumps out 408 horsepower and 600 Nm of torque.
the CLS Shooting Brake's performances may not sit in the supercar territory but they are still very speedy, considering factors like its heft, sits five comfortably and also has a large luggage compartment to boot. the CLS 250 CDI makes a century sprint in 7.8 seconds with a top speed of 235 km/h. the CLS 350 CDI, on the other hand, takes it from naught to 100 km/h (62 mph) in 6.6 seconds (6.7 for the 4MATIC model) with a maximum speed of 250 km/h. as for the CLS 350, it makes 0 – 100 km/h (62 mph) in 6.7 while the CLS 500 does it in a mere 5.3 seconds. both the CLS 350 and CLS 500 has a top speed of 250 km/h. common to all engines include the 7G-TRONIC PLUS automatic gearbox and ECO start/stop function. extensive use of aluminum in and around the vehicle, including the frameless doors, tailgate, hood, front wings, various support profiles and part of the suspension and engines, helped trim the weight of the CLS Shooting Brake significantly. some other features include dynamic full LED headlamps, luxuriously appointed interior, wooden luggage compartment floor, automatic tailgate, rear air suspension, foldable rear seats, electro-mechanical power steering, and Active Park Assist.
the Mercedes-Benz CLS Shooting Brake is expected to reach UK dealers this September, though there is no plan for its availability in the U.S. before you decide to put down your money and get behind the wheel of one, we would like to invite you to join us for a gallery of this awesome tourer after the break.