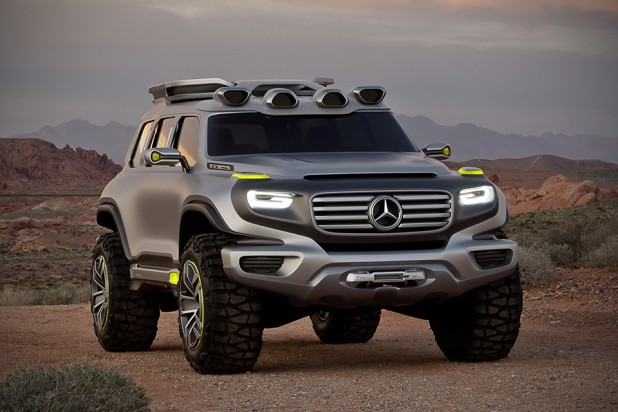 Mercedes-Benz Ener-G-Force Concept SUV | €na | www.mercedes-benz.com
what's your vision of the cars by the year 2025? we hope you are not still dreaming about Jetson-style, glass bubble-top flying cars cos' according to big marque like Mercedes-Benz, it will be pretty down-to-earth still. and evidence that points to this reality? the Mercedes-Benz Ener-G-Force Concept SUV. originally conceived as the "Highway Patrol Vehicle 2025", this concept you see here is the evolution of that future police transportation imagined, with a shape taking after the G-Class. since it is a concept for a time far, far and away, there's little or no hard specs to chatter about and thus, we shall put those aside and see what this G-Class of the future bears. from its defined macular body complemented by immense 20-inch wheels with off-road rubbers, the radiator grilled with integrated LED headlamps and integrated front and rear bumpers, you know you are looking at what a G-Class might look like decades later but the real highlight is on its roof: a recycled water tank sits on the roof where it (the water) will be transfer to a "hydro-tech converter" and converted into hydrogen for juicing the fuel cells. yes, you heard that right. Mercedes-Benz is still betting on fuel cell technology while the other hand is busy keeping emission down on today's fleet.
interestingly, the aforementioned electricity generated by the fuel cell are cleverly stored in the pair of hot-swappable side skirts of the vehicle that features colored illumination, indicating the operating and charge status of the energy pack. the Stuttgart folks has envisioned that this water-emitting vehicle will achieve around 800 kilometers (497 miles) in range. other interesting, if not out-of-this world features include a roof-mounted "Terra-Scan" 360-degree topography scanner that scans the surroundings and uses the data to adjust the vehicle's spring and damping rates and other parameters for maximum traction and a four wheel-hub motors driven by high-performance electronics that offers precise output to each individual wheel in accordance to the terrain. honestly, we don't quite appreciate those concept features at this point but if there's a SUV looking this good, it should be made now not in 2025 or even 2015. don't you think so? back to reality, it is still a concept (and a long shot one) to which we have only one way to keep ourselves satisfied: by browsing through a small gallery of this bold beauty which you can find below.