If the immense thickness and the lack of 4K and HDR on the Xbox One are stopping you from getting one, then hold your breath out for the slimmer version. E3 kicks off tomorrow, but already the Internet is flooded with leaks of the new Xbox One, a product which is no doubt aimed at rejuvenating the console's popularity, or lack thereof. Anyways, someone has posted a few images of the new slimmer Xbox One, dubbed Xbox One S and the obvious showed: it is significantly slimmer (yay!) – 40% smaller, says the leak, and in white with generous number of ventilation openings.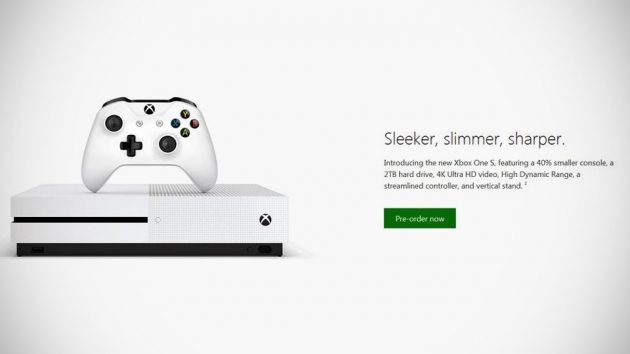 According to one of the leak images, the new box will support both 4K video, as well as High Dynamic Range contents and it will also pack a 2TB hard drive to keep up with the potentially space-consuming contents. There will be a "streamlined controller," plus, for the first time, a vertical stand to prop it up so you can show off this lean and trim console in all its sky-reaching glory. Can't hardly wait for more tidbits? So are we, but unfortunately, that's all we have for now.
I guess we have to hold out for a few hours more and we should be hearing from the horse's mouth. Pricing and availability are what we are looking forward to, since now that we know exactly how the machine will look like and we also did get a taste of the 'specifications'. Speaking of specifications, hard specs are lacking, but in any case, we doubt it will be any more powerful than the current. Maybe just a little, but we will see.
P.S. Apparently, GameSpot has listed a "Microsoft Xbox One 2TB console" for $449.99, though there's no telling if it is the fat Xbox 360 with 2TB (a surprise, maybe?) or is it the new slim version. But from this, you can roughly gauge how much how much the so-called Xbox One S will be priced.
Images via NeoGAF.
via Engadget