Apple didn't excite us with new hardware today, but Microsoft's Xbox sure did. The slimmer Xbox One that leaked is now official. In fact, it was made official just hours after our post. Officially dubbed Xbox One S, this new game console has a lot to be proud of, including the obvious like a slimmer build that's 40 percent smaller than the original Xbox One and previously reported, up to 2TB of storage, which it is going need since it now supports High Dynamic Range (HDR) support for video and gaming. Actually, we are more impressed by the size reduction because not only did the folks over at Xbox managed to reduce the size drastically, but this much smaller console has a few extras, including a built-in power brick and a newly added IR blaster.
However, the smaller size does have its trade off: the dedicated Kinect port is gone and in its place, it will need a Xbox Kinect Adapter for USB if you want Kinect with your spanking new Xbox One S. The new console also lets you watch Blu-ray movies and stream video in eye-popping 4K Ultra HD from partners like Netflix and Amazon Video. And then there's a new Xbox Wireless Controller that boasts featuring textured grip, twice the wireless range, Bluetooth connectivity, and finally, a new thumbstick design that is said to more durable and smooth.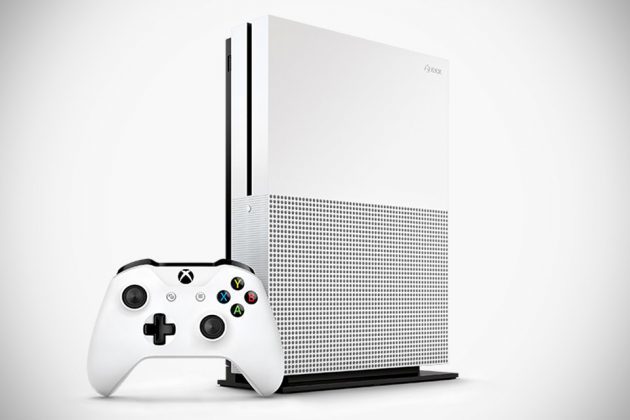 Xbox One S will come in three capacities: 500GB, 1TB and a "special launch edition 2TB" model. The latter will only be available in select markets starting August for $399, while the the 1TB and 500GB, which will be available shortly after the 2TB variety, will retail for $349 and $299, respectively. If you are in the U.S., you can actually pre-order the 2TB model now. And oh yes, it does come with the stand to prop this new "robot white" console up vertically. Additional controller will be available for purchase as well, priced at $59.99 a pop. Also announced at the E3 is Project Scorpio.
The next-generation console from Microsoft is expected to be ready in late 2017 and when it does, it will be the "most powerful console ever created," touting 6 teraflops of GPU that munch up 4K gaming and high-fidelity VR for lunch, dinner and every other meal. It is made for the future of high resolution gaming, and most importantly perhaps for Xbox fans, Microsoft said it will "coexist alongside" Xbox One and the newly announced Xbox One S and it will be compatible with all your Xbox One games and accessories. Now, that's a nice touch which Sony should pick up. Beyond that, little is known about Project Scorpio as it is still in the works.