You know the iconic blue Ikea Frakta Bag? Yeah. That one. Its polypropylene material somehow leaves it in a state of perpetual crumble, which kind of makes it look cheap. But it is a durable and popular bag, costing just 40 pence each, and it is used by many to store and transport small and medium size objects, as well as clothing outside of Ikea's stuff. Anywho, soon, this super recognizable blue Ikea Frakta Bag with the yellow Ikea branding will be a thing of the past. Danish design studio Hay, who have been designing furniture for the Swedish furniture giant, has unveiled an updated Frakta bag design last week at Ikea's Democratic Design Day in Sweden.
The new design is a radical departure from the now-familiar blue colorway. As far as we can see, design-wise, the bag remains largely the same as the incumbent, but now it sports a white and forest green woven fabric, along with forest green carrying straps, as oppose to the synthetic material, which helps to make the entire bag look a whole lot classier. Classy as it maybe, we still can't shake the association of blue and yellow, which are the furniture maker's official colors. We understand the rationale behind the redesign. Is it even necessary? I mean, may be it could use a little tweak in the bag design or maybe with the material use, but an entire new colorway?
We foresee the colorway change will have profound impact on the overall branding of the company – unless Ikea decides to ditch the entire blue and yellow scheme from its branding, which we highly doubt. It would be a branding nightmare, considering how well established Ikea is today. So, what do you think about Ikea's new Frakta Bag? Let us know in the comment section below.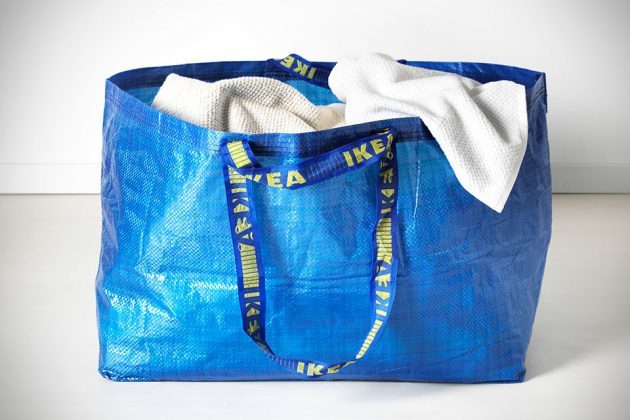 via dezeen