If you need a Star Wars-themed man-cave, you can trust Tom Spina Designs to come up with brilliant ideas to make it look the part. Like, if you need your man-cave to look like the surface of a Death Star, he would gladly do it and if the freezing cold wampa cave is your poison, you could have it too – as proven by one of Tom Spina Designs' client. Tom Spina Designs have crafted a one-of-the-kind coffee table, aptly called Star Wars Coffee Table Wampa Cave, for this one huge The Empire Strikes Back fan's home theater. The coffee table features a fairly regular glass table top, but has a replica of a section of the meat-craving wampa's cave as the supporting structure.
The 'cave' was crafted from foam to resemble the stalagmites and painted in a mix of white and blueish tones to give it a real snowy feel. It comes complete with a Luke Skywalker's lightsaber, stuck to the 'snow' too, just like the scene from the movie and this licensed FX saber is removable so, you know, just in case a wampa comes rushing at you while you are sipping your favorite cup of joe you can have the pleasure of dicing it up. Unfortunately, there's only one such example in existence and it was made for the said client for an undisclosed amount of money. However, if you want one, or something similar, you can always touch base with Tom Spina Designs to express your desire. I am sure Tom Spina will crack his brain to make sure you have your very own one-of-the-kind custom Star Wars memorabilia as long as you can afford whatever the asking fee.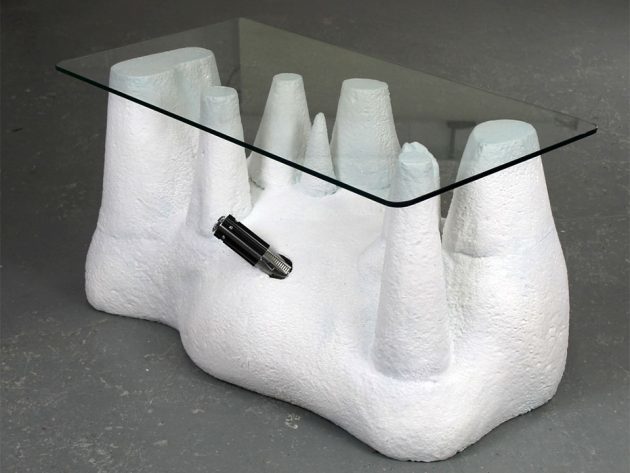 All images by Tom Spina Designs.