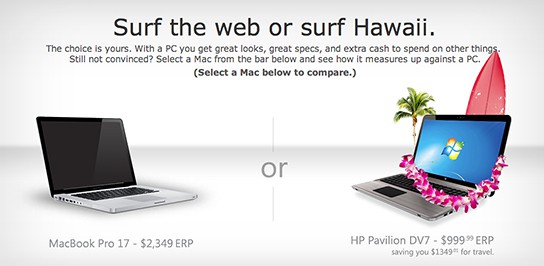 (credit: screenshot from Microsoft web)
is Microsoft feeling exasperated by Apple's assault in the computer market or perhaps by Apple's continuing increase in computer market share? i would think so. recently, Microsoft has launched a 'campaign' asking consumers to 'do the math'. simply put, Microsoft wants you to know that you are overpaying for your MacBook.
[ad#Google Adsense-text-468×60]
it has launched a microsite that compares Apple's supposedly premium laptops against the Windows-based machine. in short, Microsoft is saying Apple laptops are expensive and consumers are paying premium for them. it goes to the extend to compare the various models of Apple computers, from the entry level MacBook to the 27-inch iMac, model by model against the current market offerings such as the HP Pavilion DV7 and the HP Touchsmart 600-1350. in the headline, the microsite proudly stated "Surf the web or surf Hawaii." i gotta admit it is kinda catchy.
the microsite also stated that "with a PC you get great looks, great specs, and extra cash to spend on other things." great looks? i hardly think so. great specs? perhaps yes when it is not running on Windows? however it is, i do agree Mac is a premium but not by a lot when you think about the usability. speaking as person who has been both user of Windows since 3.X time and a Windows-based PC builder before, i can tell you that i am truly relieved that i can spend more time working on the computer than troubleshooting.
after going through the microsite, i am still not convinced that it is an apple to apple comparison. it might be an effort to stop 'ship jumpers' or those who are still undecided about what's their next PC should be. whoever it is targeted, the microsite is nevertheless a good reference for those sourcing for their next computer but it is not a definitive guide or whatsoever. the key emphasis that Microsoft is putting forward is price but the specs comparison are hardly fair. take for example, MacBook Air 64 GB SSD being compared to HP Pavilion DM1's 640 GB HDD which it is a flawed comparison if not misleading.
however, there are a couple of key issues that were not addressed that could ultimately lead to a better performing machine: the overall architecture design and the OS. these two elements are also a contributing factors to a 'better PC' which you can't really put it in writing. i am not entirely on Apple's camp but being a user for both platforms, i can easily attest to the big difference in performance even for a so-called 'lower spec' Mac. specs and bench are good for reference, it is only when you use it that you will know the difference. hence my advise is to test it out yourself.
in conclusion, these so-called comparisons barely touches the surface of what a computer really is. as said, nothing beats a real 'test drive' so can be a better judge yourself. these days, many electronics superstore sells both Windows and Mac machines, thus it will be a good place to start if you want to do a (almost) literal side-to-side comparison. check the specs of the machines that you have shortlisted and give them a test drive to determine for yourself if that machine is the right one for you. well, at least, that's so much you could do. sadly, there is no firm answer as to which is better because most of the 'desirables' and 'undesirables' only surface along the way as you use the machine.