(credit: graphic by mike; source: WPP/Millward Brown Optimor)
in a recent study commissioned by WPP and conducted by Millward Brown Optimor, Apple has increased its value by a staggering 859 percent since 2006. in this year's study, Apple becomes the world's most valued brand, toppling Google who had held the top spot for four years in a row. as it stands now, Apple is said to worth an estimated $153.3 billion. wow.
[ad#Google Adsense-text-468×60]
the study uses dollar value of companies and analysis based on financial data coupled with consumer measures of brand equity to derive the ranking and order of the brands. Apple's relentless effort to woo the consumers with consistent slew of shiny new gadgets has proved worthwhile and certainly put a smile on its shareholders. this also excite consumer like yours truly here while leaving our (consumers) wallets depressed.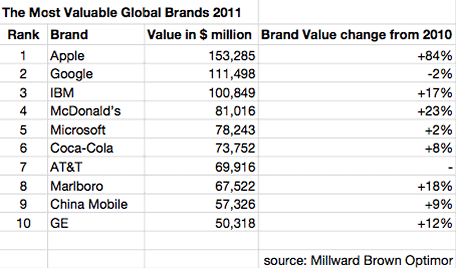 (source: WPP/Millward Brown Optimor)
according to the BrandZ Top 100 Most Valuable Global Brands study, the effect of last year's economic recovery can be truly appreciated as the study shows a 17 percent increase in combined value of all the brands in the top 100. it is now worth a mind-boggling $2.4 trillion. not surprisingly, as a promise or at least a sign of economic recovery would means better job security and hence, encourage consumers to part with their hard earned money. that's kind of law of nature in economic.
via HardwareZone / ITWire