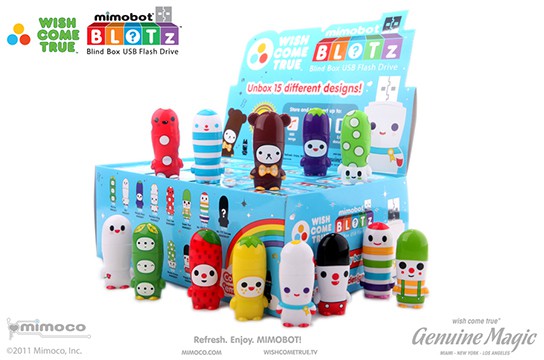 (image credit: Mimoco) Mimoco WishComeTrue BLOTz blind box MIMOBOT | US$14.95 | www.mimoco.com
remember the famous words from Forrest Gump about how 'life's like a box of chocolate. you never know what you're gonna get until you open it up'? well, what do we know? this turns out to be true for the latest addition to the Mimoco MIMOBOT USB flash drive collections.
for the uninitiated, Blind Box is a 'mystery box' where the buyer will not know what's in the box until the box is opened. so for this case, it's kind of like the Kindle Surprise for geeks-who-love-cute-things. each individual Blind Box will contain 1 of the 15 designs from the world 'Wish Come True' designed by Mimico's Artist Series collaborators, FriendsWithYou. storage capacity for the Blind Box edition MIMOBOT flash drive is a modest 2 GB and they all come preloaded with 'Wish Come True' themed desktop wallpapers, icons, avatars and screensavers.
[ad#Google Adsense-text-468×60]
along with the Blind Box assortment, Mimoco also releases three designer USB flash drives based on the three new characters from the world of 'Wish Come True', namely Brickle, Coco and Mushy, with a storage capacity ranging from 4 GB to 16 GB. prices for Brickle, Coco and Mushy starts from $24.95 each for the 4 GB capacity. if you think the 'Wish Come True' collection is a little on the mushy side, you can man it up by grabbing one of those limited edition Vintage Batman x MIMOBOT USB flash drive which happens to be an official licensed product. but you better be quick as only 5,000 units of this dark knight MIMIBOT USB flash drive are available.