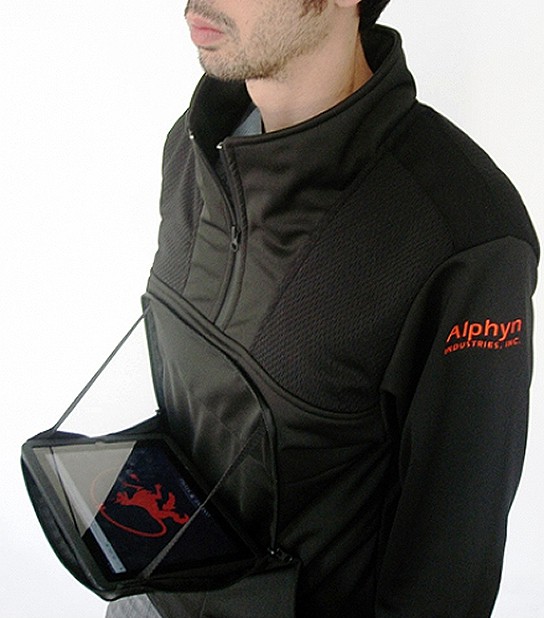 (image credit: Alphyn Industries) Alphyn Industries PADX-1 LEDGE Wearcom pullover | US$285.00 | alphynind.com
we are familiar with iPad case, how about going one step further by tucking it close to your chest, literally? the Alphyn Industries' PADX-1 LEDGE Wearcom pullover lets you do just that. the PADX-1 has a built-in iPad case much like an upsized pocket for your iPad integrated into the jacket.
the PADX-1 looks just like another jacket with a pair of kangaroo pockets at the sides and a zipper pocket that flips out to reveal an iPad case. when unzipped, it reveals your iPad, complete with load bearing harness system at the chest and shoulders to support the iPad and distributes the weight across the upper body, reducing fatigue. well, not that the iPad adds a lot weight but the thing is, with this system, you can virtually free up both hands and use them (yes, both of them) to touch your device or do whatever things other than holding up your iPad. yep, that's right. no holding required, as the patented LEDGE pocket flap does the job of holding the iPad for you. sounds like a jacket a geek would love to have.
the jacket itself is made of advanced waterproof, thermal soft-shell for a perfect balanced of strength, stretchability and softness. the PADX-1 LEDGE Wearcom pullover retails for $285 and is available now from Alphyn Industries online store. if you love your iPad and don't mind looking like a hot dog seller in a Super Bowl game, the PADX-1 lets you keep your iPad closer to your heart… literally.