If you one of those who felt a keyboard, a touchpad and a mouse makes a mess out of you desktop, or a chore to carry while you are on the go, then we think Moky Invisible Touchpad Keyboard could be the answer that will reduce one more clutter in your life. Founded by former LG Electronics software engineer, Enyoung Cho, Moky may appear to be a sleek, compact Bluetooth keyboard, but what you see is more than meets the eye. Beyond its thin Pantograph keyboard which provides you with the gratification of typing on physical keys, it incorporates IR laser sensors that will turn the keyboard into the world biggest touchpad as and when you needed it.
In this way, you don't need to put up with virtual or pressure sensitive keyboard and still be able to enjoy the convenience of gesture inputs like type-and-drag, drag-and-tap, and pinch-to-zoom. The best part is, it lets you do so over a large real estate and not some tiny dedicated pad. This also means Moky can keep the size of the keyboard down. It can be paired to up to three devices over Bluetooth 4.0 Technology, plus there is a USB connection to get one more device onboard.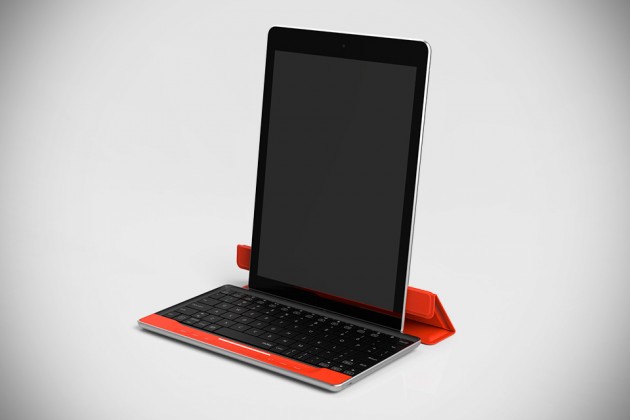 Moky is multi-platform too, playing well with major platforms including Windows, Mac OS, as well as Android OS. Though it is worthy to note that multi-touch is limited to 2-point and iOS only supports keyboard input and not gestures. Moky comes stand with a la-Apple, multi-fold keyboard cover that can be folded up to serve as a smartphone or tablet stand as you use the Moky for input. Up to 8 keyboard will be offered, including English, Korean, Europe, Japanese, Taiwan, Russian, AZERTY and QWERTZ, and it is available in choice of two colors: orange (lovely!) and blue.
As you might have imagined, such innovative technology is much sought by today's gadget users and therefore, it is not surprising that the outfit's Indiegogo campaign has well surpass its initial funding goal of $30K. If you are all up for it, you can pre-order within the next 70 hours or so at a surprisingly reasonable price of $79 with delivery anticipated to happen sometime in October 2015.