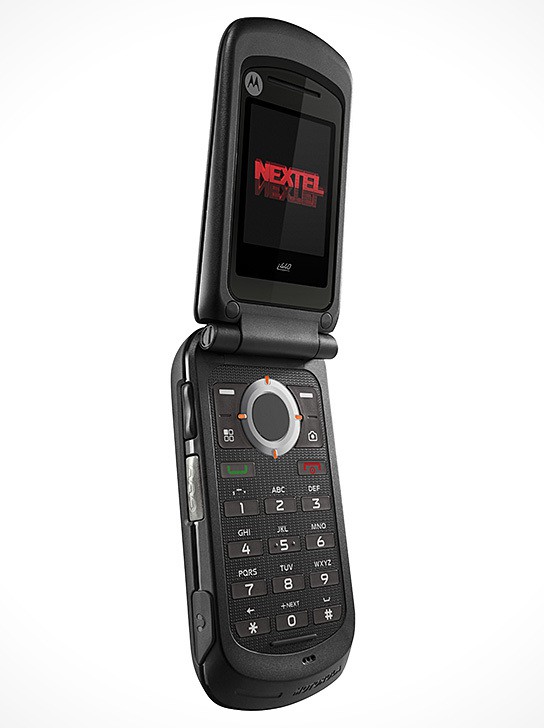 (credit: Motorola Mobility) Motorola i440 Mobile Phone | US$tba | www.nextel.com.pe
Motorola Mobility and Nextel Peru announced the launch of budget i440 mobile phone. the phone is touted to be a practical, durable and yet, functional handset that is affordable for everyone. the i440 bears an almost forgotten clamshell design, which judging from the images provided by Motorola, is looking pretty neat for a budget phone. the phone sports a dual screen display: the internal screen has a 128 x 160 resolution TFT display, while the external is a 96 x 32 resolution monochromatic display. other features include Push to Talk, FM Radio, a speaker on its back, micro USB, Java technology, GPS-enabled and a 2.5-mm audio jack. the phone is expected to hit Nextel Peru's retail this month but no exact date or price plans are provided. another look at the i440 and the official press release after the break.
[ad#Google Adsense-text-468×60] [toggle title_open="Hide Press Release" title_closed="Show Press Release" hide="yes" border="yes" style="default" excerpt_length="0″ read_more_text="Read More" read_less_text="Read Less" include_excerpt_html="no"] Nextel and Motorola Mobility Launch Motorola i440™ in Peru
Motorola i440™ is a practical, durable and functional handset with an affordable price for everyone
Aug. 08, 2011
LIMA, Peru – Aug. 8, 2011 – Access great audio and signal quality in a modern clamshell package with Motorola i440™, the latest handset from Nextel Perú and Motorola Mobility Perú S.R.L. The new model features a digital VGA camera with 4x zoom, FM Radio, Bluetooth® connectivity and an extended battery life; all at an affordable price.
"Our deep understanding of every segment of our customer-base is what drives us to expand our portfolio of handsets," said Carlos Jáuregui, product and service manager for Nextel del Peru. "We have been working for 12 years to make our users more successful and productive by diversifying our selection of devices."
"We want to provide every user with a customized communication experience and the opportunity for personal expression," said Manuel Cigaran, account manager for Motorola Mobility. "Motorola i440 was developed with for people looking for style and functionality at an affordable price."
Motorola i440 offers a variety of functional features, including: The capacity to have instant communication at any place and time; ability to send images and share contact information instantly with the Push to Talk button; FM Radio; two displays – an internal 128×160 TFT display and an external 96 x 32 (vertical) monochromatic display; a powerful speaker in the back part of the handset; a micro USB port; Java technology, GPS and 2.5 mm audio jack.
Availability and price
The Motorola i440 is available in august at all Nextel sales channels. For further information, go to www.nextel.com.pe.
About Nextel
Nextel del Peru S.A is a subsidiary of NII Holdings, Inc., which provides the corporate segment with wireless communication tools that integrate, in one single handset, thanks to the iDEN® technology, the Nextel Direct ConnectÒ (digital radio function) service, telephone interconnection, Nextel Online, Internet access and data transmission features. Founded in December 1998 and based in Lima, Nextel del Perú is the first NII Holdings subsidiary in implementing a 3G network. In October 2010, the Reputation Institute and Inmark acknowledged Nextel del Perú as the telecoms company with the best reputation in Peru as determined by the "Reputation Pulse 2010 – Peru" survey.
About NII Holdings
NII Holdings, Inc., a publicly traded company based in Reston, Va., is a leading supplier of mobile communications for corporate customers in Latin America. NII Holdings, Inc. has operations in México, Brazil, Argentina, Peru and Chile, offering a fully integrated wireless communications tool with voice service, digital cell phones, data services, wireless Internet access and the Nextel Direct Connect (Direct Connect® and International Direct ConnectSM), with two-way digital radio features. NII Holdings, Inc., a Fortune 500 company, is quoted in the NASDAQ market under the NIHD symbol and is member of the NASDAQ 100 index.
About Motorola Mobility
Motorola Mobility, Inc. (NYSE:MMI) fuses innovative technology with human insights to create experiences that simplify, connect and enrich people's lives. Our portfolio includes converged mobile devices such as smartphones and tablets; wireless accessories; end-to-end video and data delivery; and management solutions, including set-tops and data-access devices. For more information, visit motorola.com/mobility.[/toggle]